Friday, March 22, 2019 / by Juan Grimaldo
Plans call for building more than 200 homes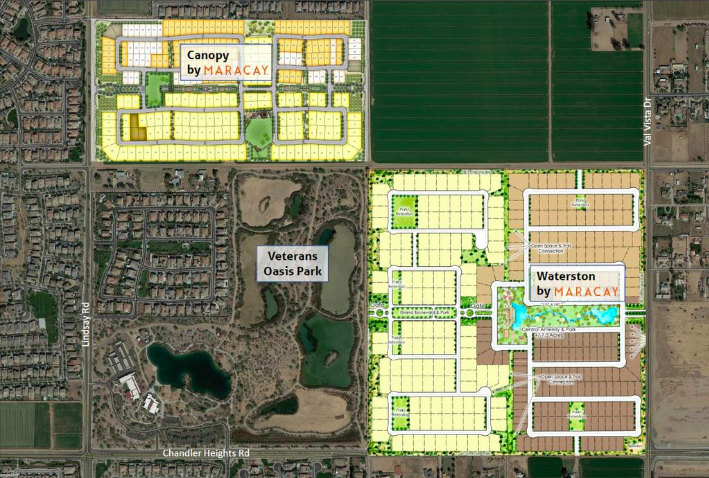 (Image: Maracay Homes)
In 2018, Maracay Homes assembled the 155-acre parcel on the lower right, which is in Gilbert. It just paid $25 million for the 82-acre parcel on the upper left, which is in Chandler. Both parcels surround Veterans Oasis Park in Chandler.


Maracay Homes has paid $24.6 million for an 82-acre parcel next to the Veterans Oasis Park in Chandler, to complete the homebuilder's 236-acre total assemblage in an area that stretches into Gilbert.
The new community in Chandler, to be called Canopy, will include 241 homes. Total development costs — including the price of the land — will be $38.6 million, said Jason Weber, vice president of land acquisition and development for Maracay Homes, which is owned by Irvine, California-based TRI Pointe Group (NYSE: TPH).
Last year, Maracay bought 160 acres in Gilbert, where the Scottsdale-based homebuilder is building 332 homes within a master-planned community called Waterston.
The new Canopy development will be designed according to the principles of Vatsu Shastra, a traditional system of architecture that integrates nature, functionality, symmetry and directional alignments to create an enhanced living environment. A central paseo and park will be designed with raised garden beds, ornamental grasses and pergolas to create a sense of serenity for residents and visitors. Other amenities include a pedestrian trail system that will connect the community to Veteran's Oasis Park with miles of trails, a 7-acre urban fishing lake and a nature center.
While it's too soon to identify a price range, Canopy's modern ranch style homes will range from 2,331 to 3,730 square feet, with the first phase to be open in 2020, Weber said.
Maracay used a land banker, Hearthstone, to set up financing to buy the parcel, Weber said.
"While Hearthstone technically closed on the property, Maracay has entered into an option agreement with Hearthstone and will buy back finished homesites from them on a quarterly basis," Weber said. "It's a financing tool commonly used by public builders to keep their balance sheets light."
While the two communities — Canopy and Waterston — are connected at one corner, they will be marketed separately rather than with one master plan, Weber said.
The new residential communities come at a time when 7,500 jobs are being created in the area, including 2,500 jobs at Allstate Insurance Co.'s expansion in Chandler, another 2,500 jobs at global consulting firm Deloitte at The Commons in Gilbert, and 3,000 jobs at Intel Corp.'s new Fab 42 facility, also in Chandler.
Author: Angela Gonzalez, Senior Reporter, Phoenix Business Journal