Wednesday, March 20, 2019 / by Juan Grimaldo
Renovations would be completed in time for spring training in 2020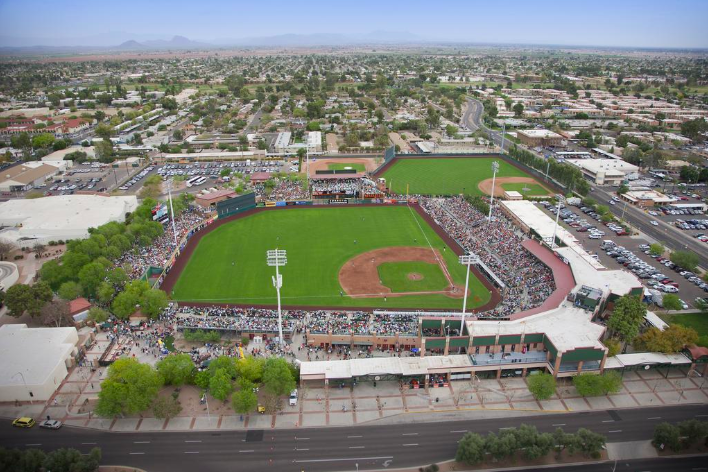 Scottsdale Stadium (Image: Scottsdale)
Update: The Scottsdale City Council passed the three resolutions to renovate the Scottsdale Stadium Tuesday evening.
The new renovations of the spring training home of the San Francisco Giants passed unanimously with a 7-0 vote.
With the passage, construction of the project's first phase is set to start in April following the conclusion of the 2019 Cactus League. Phase one is expected to finish in February 2020 ahead of next year's spring training season.
Original story: The Scottsdale City Council on Tuesday was scheduled to vote on the first set of renovations at Scottsdale Stadium, the spring training home of the San Francisco Giants.
Council will consider a $22.9 million contract with Indianapolis-based Hunt Construction Group to build a new clubhouse building/event venue for the Major League Baseball team. The renovations also will include expanding and adding shade to the right-field Charros Lodge, improving left-field berm areas and renovating the main entry plaza. Construction would start in April and be completed by next year's spring training. Scottsdale Stadium was last updated in 2005.
Council also will consider a $52.8 million funding plan for the renovations, as well as additional improvements and setting the parameters for the Giants extending their ballpark lease to 2044 with two potential five-year extensions. The current lease expires in 2025.
The funding deal calls for a $15.125 million contribution from the Giants through 2039. Scottsdale would contribute up to $35 million through hotel bed taxes and accompanying bonds. The Scottsdale Charros nonprofit group, which puts on events at the ballpark, would chip in $2.7 million.
This story originally appeared in Sports Business Daily, an affiliated publication.


Author: Mike Sunnucks, Sports Business Journal