Thursday, March 28, 2019 / by Juan Grimaldo
Project is the first in Arizona for the real estate investment firm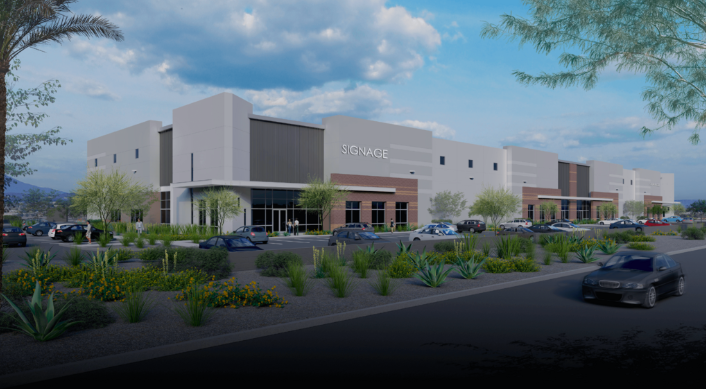 (Image: Provided by EquityMultiple)

An artist's rendering shows a planned industrial park, which will be built in a opportunity zone in Goodyear.



A planned 325,000-square-foot industrial complex in Goodyear will be the first opportunity zone investment for New York-based real estate investment firm EquityMultiple, which is working to raise $7 million to invest in the project.
"We looked at easily 100-plus transactions in opportunity zones, and this struck us as the first deal that came across our desks that made a lot of sense for us and for our investors," said EquityMultiple Chief Investment Officer Marious Sjulsen.
Sjulsen said the project was already in the works before the regulations came out for opportunity zones, which was an important qualifying factor. It's the firm's first project in Arizona.
"The deals need to work without the benefit," he said.
EquityMultiple is raising $7 million to invest in the development of the complex, which will include two buildings on a 23.5-acre parcel near 143rd Avenue and Van Buren Street. The total development cost for the project is expected to be about $12.5 million, the remainder of which was already raised by project sponsors.
The project is considered by EquityMultiple to be in a "prime location" due it its freeway access, and location in a foreign trade zone as well as the opportunity zone.
Chicago-based Baker Development Corp. is developing the complex, which is expected to break ground in May. The developer is in discussion with several potential tenants.
Arizona had 168 opportunity zones approved at the federal level, the most allowed by the law. The program was created through the Tax Cuts and Jobs Act and allows accredited investors to re-invest capital gains realized from a sale of property, stock or business to defer paying taxes. The money must be invested within 180 days for it to be eligible for the deferred taxes. The money can be invested two ways: in real estate or in operating companies within designated opportunity zones.
Sjulsen said EquityMultiple's investors are accredited investors, but are often individuals who have sold small businesses or stock and realized capital gains, and invest smaller amounts of money, such as $50,000, as compared to traditional real estate investors who can invest millions of dollars.
"We thought [opportunity zones] shouldn't just be something for the ultra-rich," he said.


Author: Corina Vanek, Reporter, Phoenix Business Journal