Friday, July 26, 2019 / by Juan Grimaldo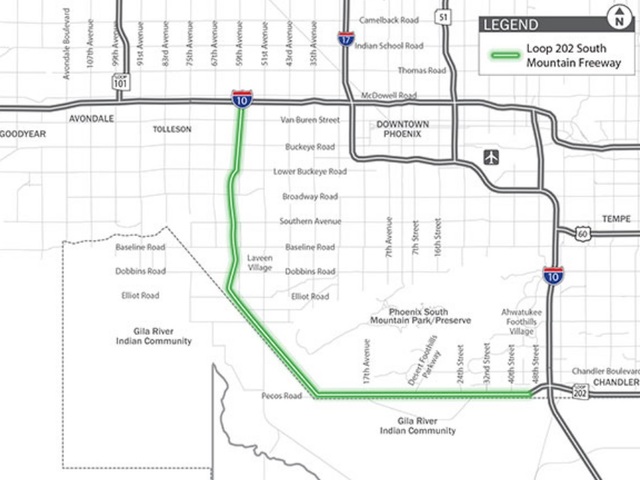 (Image: Provided by Arizona Department of Transportation)
Arizona's largest freeway project won't open to traffic until the end of the year, but economic developers around the Valley already are planning for the new 22-mile stretch of Loop 202 to be much more than a way for commuters and trucks to bypass downtown Phoenix.


"Employment corridors emerge along transportation routes," said Lori Collins, deputy economic development director for the city of Phoenix. "A project of this size gets attention from major site selectors and consultants nationwide."


The Loop 202 extension, called the South Mountain Freeway, is on track to open by the end of 2019, having been touted among other things as a connection between the east and west sides of the Valley.

The freeway, which spans from Interstate 10 and 59th Avenue in the west to I-10 and the existing Loop 202 in the east at the Phoenix-Chandler border, will feature three general purpose lanes and one high-occupancy vehicle lane in each direction, allowing for plenty of space to travel.


Collins worked in Chandler's economic development office when the San Tan Freeway section of Loop 202 opened in 2006 and said the private development happening along the new stretch of freeway in Phoenix likely will mirror what happened there.


So far, most companies building along the extension are working on industrial projects, but Collins said the freeway portion that extends south of the Salt River would lend itself for a diverse mix of employment.


"We want to create a strong mix of employment opportunities in every part of the city," Collins said, adding there are not many job opportunities close to home for people who live in Laveen. "It would be a waste of freeway frontage if it were all rooftops."


That could be good news for the West Valley in particular, which has a growing workforce but a shortage of office jobs for its populace.



The freeway has been a boon for land sales and development as developers seek to cash in. During the 24-month period that ended June 30, there were 24 land sales within a two-mile radius of the Loop 202 extension, double the sales in the previous 24-month period, according to CoStar data.


While most commercial development along the corridor is industrial and some retail inventory, office and multifamily are much scarcer. Economic development leaders in both Phoenix and the West Valley would like to see a diverse development mix built along the corridor eventually, with a focus on employment opportunities.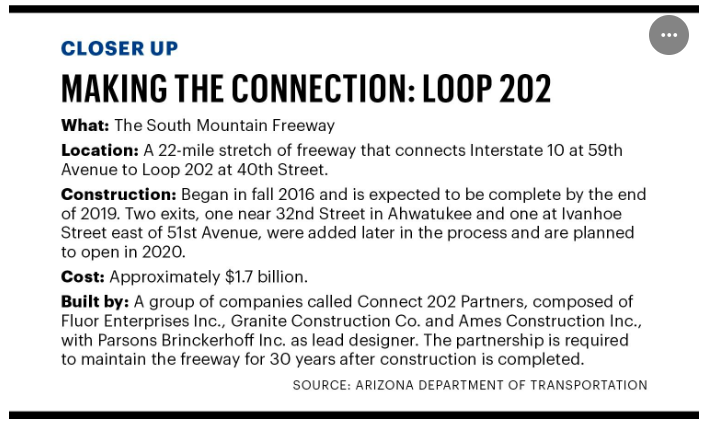 During that two-year window, there were 21 industrial sales within two miles of the new freeway, a 24% increase over the previous period. There were 14 retail sales during the past 24 months, a 56% increase, according to CoStar.


Leasing activity for all property types increased during the past two years, compared with the previous period. Industrial leasing totaled 3.7 million square feet during the 24-month period, a 52% increase, and office leasing totaled 272,000 square feet, up from just 54,500 square feet the previous two years.


Rusty Kennedy, senior vice president at CBRE who has listings on industrial buildings along Loop 202 on the Valley's east and west sides, said the extension will allow companies to "have the best of both worlds" when locating in Phoenix.


"Before, you had to pick which side you wanted to be on," Kennedy said. "This allows increased connectivity across the market."


Most West Valley residents already commute east for work, according to studies done by Westmarc. With the new freeway allowing commuters to bypass the gridlock of interstates 10 and 17 near downtown Phoenix, companies in both the east and west can more easily attract employees from both labor pools, Kennedy said.
There is "always a premium" cost for good freeway access, and owners with properties along the extension likely will lease buildings much faster than one farther away from a major freeway, Kennedy said. Freeway frontage provides "free advertising" for companies, he said, and the Arizona Department of Transportation forecasts 117,000 cars per day will use the extension when it opens.


"We are already seeing demand for being along the 202 from users, even before it's open," he said. "We will see a plethora of users that want to be along the 202."


Though it may take years to create the mix of uses Phoenix officials hope to see along the new freeway, developers have already started jockeying for positions along the route.


Prologis Inc. broke ground this month on the Prologis I-10 @ Loop 202 industrial building, which will total more than 330,000 square feet of space on 61st Avenue and Washington Street, about a quarter-mile from the 59th Avenue alignment of Loop 202.


"The Loop 202 is putting in play land parcels that were much less desirable due to their distance from I-10," said Megan Creecy-Herman, vice president and market leader for Prologis in Phoenix.


Creecy-Herman said she "absolutely" has seen interest from potential tenants who are prioritizing freeway access when looking for places to lease.


"It's something customers and companies are dialed in on and paying attention to," she said. "Phoenix benefits from relatively new and well-maintained infrastructure, and this further strengthens the case for Phoenix versus other metros."


Not only will the South Mountain Freeway increase the attractiveness of parcels that previously would not be convenient places to build, but tenants choosing to locate in the West Valley typically pay between 30% and 40% less in rents than competing submarkets, Creecy-Herman said.


"The access to labor coupled with the discounted rents in the West Valley are important when tenants are evaluating the market," she said.


Trammell Crow Co. is nearing completion on its West 202 Logistics Center, built near 59th Avenue and Lower Buckeye Road, and is in active discussion with potential tenants, said Cathy Thuringer, principal with the company.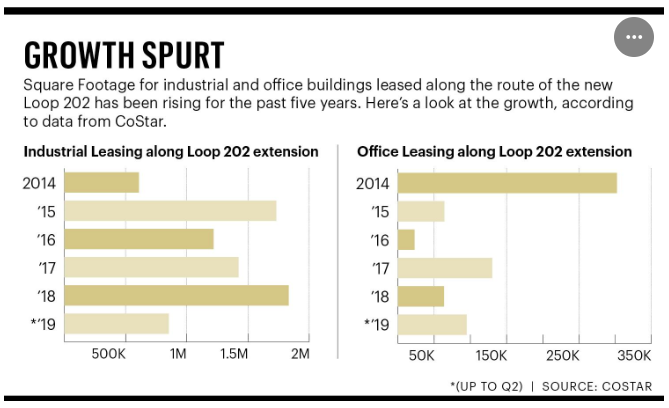 "Our adjacency to the extension is ideal," she said. "There are few buildings that benefit from that, and it's one of the reasons we bought that parcel."


As part of the extension work, ADOT will install a stoplight at 59th Avenue and Lower Buckeye, which will replace a four-way stop, and improve access to the site, Thuringer said.


Without the extension, the site would not have been a very attractive option for Trammell Crow to buy or develop, she said.


"If the 202 hadn't been put in, our site is three and a half miles from I-10," she said. "There are other alternatives that are closer to the freeway that would probably get a look from tenants before one that is that far south."


Trammell Crow announced plans in June to build another speculative commerce park along the South Mountain Freeway, this time on the eastern portion of the 22-mile stretch. The project will be built on 48 acres on the Gila River Indian Community at the southwest corner of Loop 202 and 40th Street. Construction on the project will begin in December, and completion is scheduled for September 2020.


While Thuringer said she has not heard potential tenants say the 202 extension is the primary factor for their location choice, it is likely a contributing factor.


Land along the extension continues to be an area of focus for Trammell Crow, but the company also is looking elsewhere in the Valley for its next acquisition.


"We are looking for the right sites in the right submarkets," she said.
Sintra Hoffman, president and CEO of West Valley economic development group Westmarc, said the extension is an important addition for promoting employment growth west of Interstate 17.


"Since the Loop 303 opened, jobs increased 40% in that area," she said. "We envision the same thing will happen with the Loop 202."


While some may see the extension as an easier way for West Valley residents who already commute east to get to jobs, Hoffman said she sees it as an "equal opportunity," giving employers in the West Valley access to East Valley labor as well.


Rob Samour, ADOT's senior deputy state engineer for major projects, said the new freeway will provide a much-needed alternative for travel between the east and west sides of the Valley, but it is hard to know how much congestion the freeway will relieve in the busiest areas because the Phoenix metro continues to grow in population.


Between 225,000 and 250,000 cars every day go through the Broadway curve section of Interstate 10 near the Phoenix border with Tempe, making it the busiest stretch of freeway in the Valley. By 2035, 190,000 vehicles are expected to use the South Mountain Freeway.


Various groups, including the city of Phoenix, Westmarc and the Maricopa Association of Governments have included the extension in their long-term economic development planning.


"The whole area around 59th Avenue is going to change," Samour said. "The entire corridor on the west side will develop between residential, commercial and industrial."


By Corina Vanek – Reporter, Phoenix Business Journal