Thursday, March 21, 2019 / by Juan Grimaldo
Company has several new developments in the works from Mesa to Scottsdale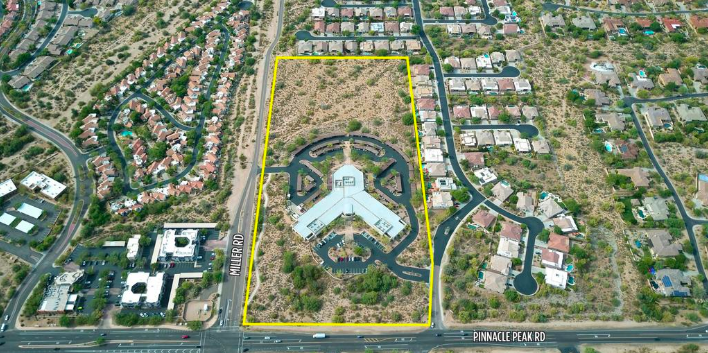 (Image: Cushman & Wakefield)

P.F. Chang's sold 20 acres in Scottsdale to Lennar Homes, where the homebuilder plans to build 55 homes.


Lennar Corp. (NYSE: LEN) is busy gobbling up land in metro Phoenix and there's no indication the Miami-based homebuilder will slow down any time soon.
"We are certainly committed to this market," said Jeff Gunderson, senior vice president of land acquisition and development for Lennar, which became the nation's largest homebuilder when it acquired CalAtlantic for $5.7 billion last year.
The company closed on 2,036 homes in the Valley during its fiscal year 2018 (ending in November) and is expected to close on nearly 2,100 homes this year, he said.
"In order to have a paced amount of growth, we've got to buy a lot of land," he said.
Even so, he said, it's modest.
"We're not racing anybody," he said. "We're not trying to go crazy. We're just trying to match the market growth with our growth pace. We're trying to line up land all the time to hit that goal."
With fiscal 2018 revenue of $20.6 billion — a 63 percent increase — Lennar Corp. delivered 45,627 homes nationwide, up 55 percent from 2017, according to filings with the U.S. Securities and Exchange Commission.
Lennar is in escrow to buy four parcels totaling 296 lots at Cadence at Gateway in east Mesa, a 464-acre master-planned community where the company already is building 256 homes.
"We will break ground as soon as we close," Gunderson said.
Models for that Phase II project will be ready during the second quarter of 2020, he said.
Home prices for the second phase will be similar to the first phase, which start at $286,990 for homes ranging from 1,760 to 2,958 square feet.
But those prices may go up if demand remains strong, he said.
Meanwhile, Lennar also just paid $10.5 million for 193 lots at the northwest corner of Ocotillo and Crismon roads in Queen Creek, according to real estate database Vizzda LLC.
Those homes will range from 1,800 square feet to 3,000 square feet and be priced from the mid $200,000s up to the low $400,000s, Gunderson said.
He estimates it will cost another $4.5 million to complete development work on that project, which should have models ready by the first quarter of next year.
After being in escrow for a year, Lennar just closed on 127 acres at the northeast corner of Indian School Road and Loop 101 in Scottsdale, paying $15.8 million to John F. Long Properties, according to Vizzda.
Gunderson said he took the property through the planning process while it was in escrow.
Plans call for building 524 homes on that parcel, with three different neighborhoods and three different product lines. Home prices will range from the mid $200,000s and the mid $300,000s and range from 1,600 to 2,700 square feet.
"We should be moving dirt in a couple of weeks," he said. Models should open during the second quarter of 2020.
In addition, Lennar is preparing to build 55 homes on a 20-acre site that once served as P.F. Chang's headquarters at Miller and Pinnacle Peak roads in Scottdsale. Lennar paid $12 million for that parcel, brokered by Cushman & Wakefield (NYSE: CWK).
That parcel was originally a deal the CalAtlantic team had been working on before the merger.
"We presented it to Lennar at corporate once we merged," Gunderson said. "It was attractive for us."
Homes will range between 2,000 and 2,600 square feet and start in the $600,000s, he said.
Demolition began this week of the former P.F. Chang headquarters, paving the way for models to be open during the first quarter of 2020.
That acquisition shows the high value placed on prime Scottsdale locations, said RL Brown, publisher of the RL Brown, publisher of the Phoenix Housing Market Reports.
"I suspect that we can expect to see more repurposed land deals in the future in locations like this in Scottsdale as well as in other sought-after Valley locations," Brown said.
These land deals follow the $22.6 million purchase of 140 acres of State Trust Land in north Phoenix, where Lennar was the winning bidder.
Author: Angela Gonzalez, Senior Reporter, Phoenix Business Journal