Thursday, January 7, 2021 / by Juan Grimaldo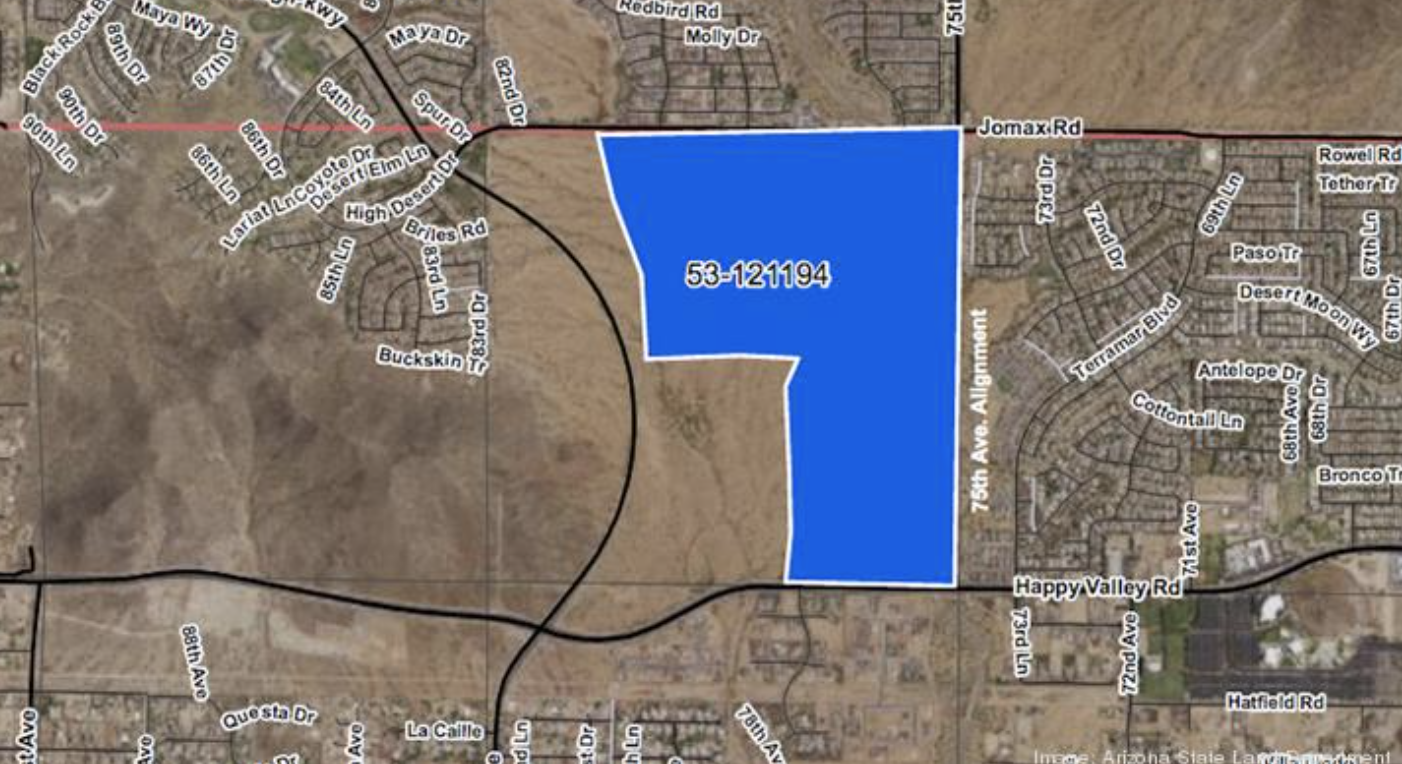 A state land auction bidding war with some of the nation's largest homebuilders Wednesday netted $72.6 million for a 328-acre parcel in Peoria.
Georgia-based Ashton Woods teamed up with Lennar Corp. (NYSE: LEN) and Taylor Morrison Home Corp. (NYSE: TMHC) in a bid against PulteGroup Inc. (NYSE: PMH), Maracay Homes (NYSE: TPH) and Toll Brothers Inc. (NYSE: TOL).
The Ashton team won the auction, with 257 bids over the course of 1.5 hours at the Arizona State Land Department. The starting bid was set at $46.92 million for the vacant parcel at the northwest corner of Happy Valley Road and the 75th Avenue alignment.
Ashton Woods is among the top 20 homebuilders in Arizona, pulling 435 permits and closing 502 new homes between January and November 2020, according to R.L. Brown Housing Reports.
Representing the winning bidders was the Scottsdale-based Nathan & Associates Inc. team of Nate Nathan, Dave Mullard, Daniel Baldwin, Ryan Duncan and Casey Christensen.
Nathan & Associates also represented Shea Homes when the Scottsdale-based homebuilder was the winning bidder in a state land auction for 415 acres next to the land the Ashton team just won, bidding $46.77 million for that parcel.
"It's one of the hottest markets in town," said Nate Nathan, founder of Nathan & Associates. "It is one of the last pieces of raw dirt left south of Loop 303."
The Arizona State Land Department's recent land releases not only help the Arizona education system, but also will help relieve some of the housing supply strain home shoppers are feeling, said Jim Belfiore, founder of Belfiore Real Estate Consulting in Phoenix.
"Fewer homes — new and resale — are presently available for sale than have been available since 2005," Belfiore said. "The supply crunch is pushing home prices up at a pace of 15% annually, an unsustainable pace that will price some otherwise would-be homebuyers out of the market."
Arlington, Texas-based D.R. Horton Inc. (NYSE: DHI) was the winning bidder on a 2,783-acre parcel, paying $245.5 million for that parcel in the far East Valley.