Thursday, March 14, 2019 / by Juan Grimaldo
Company offers one-stop shop for remodeling work for single-family homes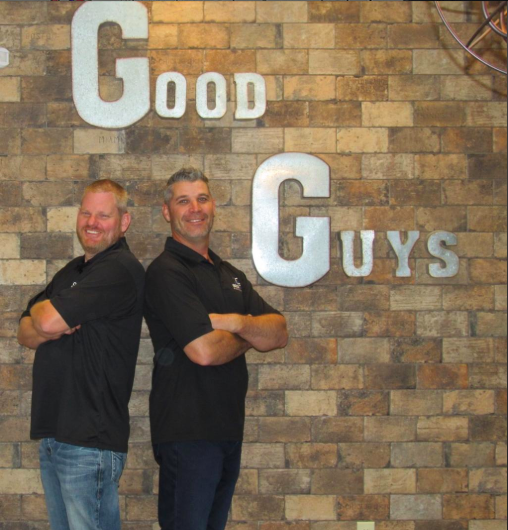 While working for a commercial homebuilder after years of being self-employed as a custom builder in the Midwest, Shannon Carfield began missing the freedom of being his own boss.
He met his business partner, Dean Eckenrode, on a job in Las Vegas, and the two had a lot in common. Soon the pair started a remodeling agency out of the backs of their trucks that has grown into Kitchens by Good Guys LLC.
The company focuses on custom kitchen remodels on single-family homes, including design and planning, construction and project management. It is now headquartered near the Scottsdale Airport.
"I see us specializing more and more as we grow and get to be more efficient," Carfield said.
Kitchens by Good Guys has seven employees including the two co-owners and is looking to hire between one and three employees this year, with needs for a field supervisor, an additional designer and possibly an estimator.
"We slowly grew the business without any financing, borrowing or lending, and now, in the next year or two, we are looking to grow a little more quickly," he said.
Last year, the company brought in about $1.4 million in revenue. It is expecting to bring in $2 million this year.
Carfield said the firm often is able to complete the work in a shorter time frame than other companies and offers in-house design work as part of its services, rather than outsourcing interior design.
Typically, when a customer hires them for a job, the company does a phone pre-screening, then the designers meet the clients at their home to get an idea of the style they'd like. Then, clients come to the showroom to see the products and styles, then are given the budget and time line for the service, Carfield said.
"We are very organized, very efficient," he said.
The firm also uses interactive technology that allows property owners to see a project in real time with videos and pictures, in order to see the progress on the job, even if they live in another state or country.
Author: Corina Vanek, Reporter, Phoenix Business Journal (Image: Provided by Kitchens by Good Guys)