Friday, April 26, 2019 / by Juan Grimaldo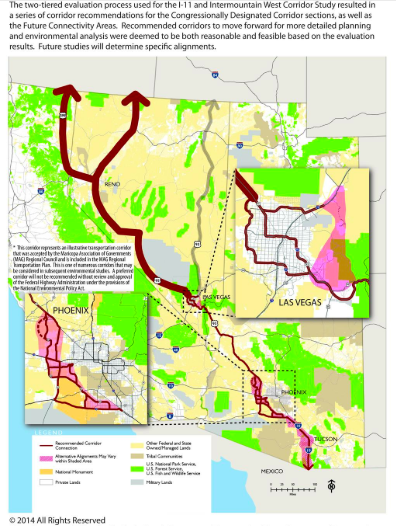 (Image: AZDOT)
Interstate 11, once completed will provide trade routes from Mexico to Canada through Arizona and Nevada.
Interstate 11 is a developer's dream.
The route, to stretch from Las Vegas to the Mexican border, will traverse Arizona through mostly undeveloped land. In the Phoenix metro, the freeway is expected to cut through the far West Valley.
Already, JDM Partners and El Dorado Holdings are looking at the potential route for their Douglas Ranch project. Microsoft Corp. founder Bill Gates also has a project in the area.
They're not alone. Economic developers from Phoenix to Tucson see the power of a new freeway to bring more growth and development to the state. After all, where there are freeways there are businesses.
Last week, however, groups with environmental concerns about the projectbegan urging the Arizona Department of Transportation to not build the project, citing that it will be built through what is now virgin Sonoran Desert.
Building a freeway is never easy. Loop 202's final section into the West Valley took years of planning and meetings. Freeways can divide neighborhoods. They can render some property worthless while exploding the value of other land.
I-11 was never going to be quick or easy.


By Patrick O'Grady – Managing Editor, Phoenix Business Journal