Wednesday, April 24, 2019 / by Juan Grimaldo
Company has set up a $20M syndicated fund to buy up more Phoenix-area properties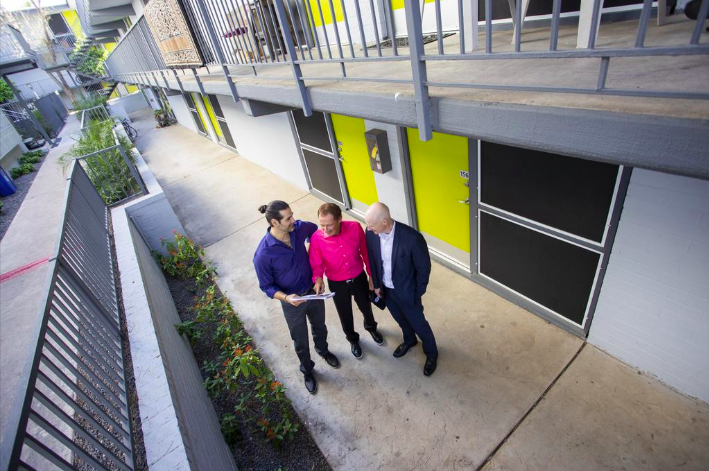 (Image: Provided by Jim Poulin, Phoenix Business Journal)
From left, Maximiliano Palaco, Peter Thomas and Kirk Howell, the leadership team of Urban Communities LLC created to develop workforce housing.



A team of local developers is working to tackle some Phoenix-area affordable housing issues with lower-cost apartments appealing to middle-class workers.
The group behind Urban Communities LLC is transforming older apartments in more desirable locations into so-called workforce housing to compensate for the "drive until you qualify" rush to find affordable new homes in outlying areas.
When Maximiliano Palacio first met Peter Thomas, a long-time developer, Palacio was buying properties one at a time and fixing them himself. Together, they have created a syndicated fund that is financing acquisitions and renovations on a larger scale.
Urban Communities bought its first property at 1601 W. Camelback Road in Phoenix in November 2015. At the time, the apartments were overflowing with gangs, drugs and prostitution, Palacio said.
After renovating the property and ridding the area of the bad actors, that complex is nearly 100 percent leased. Last summer, Urban Communities bought the complex next door and is in the midst of renovating that property and leasing it, Palacio said.
Such efforts are in focus these days as Phoenix ranks on the upper end of apartment rent hikes. To rent a median-priced two-bedroom apartment in Phoenix, a renter will need an annual income of $42,320 to avoid becoming cost-burdened, meaning they spend between 30 percent and 50 percent of their income on rent, according to a study from Apartment List. The actual median household income in Phoenix is $53,747.
In nearly a quarter of the 100 largest U.S. cities, renting a median-priced two-bedroom apartment is becoming increasingly difficult and potentially unaffordable for a median-income renter, according to the report.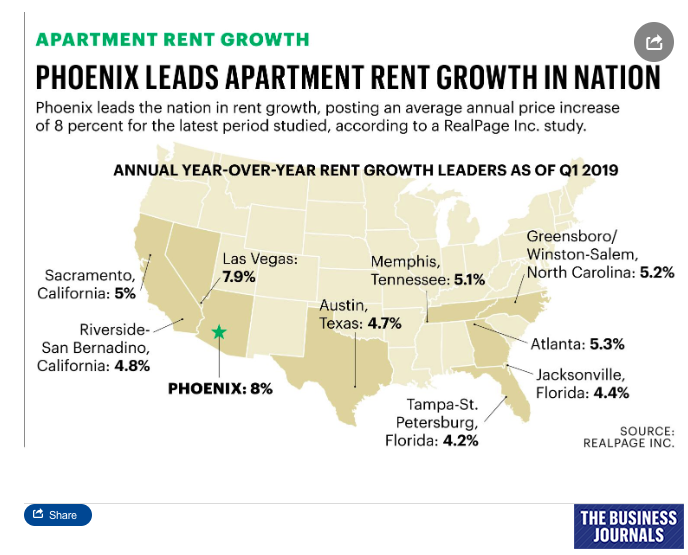 While Phoenix doesn't make the list of cities without high enough wages to afford a median-priced two-bedroom apartment, the hourly wage recommended to rent such accommodations in Phoenix is $20 an hour — at a time when the minimum wage in Arizona was recently hiked to $11 an hour, and rises to $12 in 2020.
Urban Communities serves as general partner of a $20 million syndicated fund being used to buy more properties across the Valley. Another $50 million fund will be created to expand nationally, said Kirk Howell, COO of Urban Communities.
Christine Mackay, the city of Phoenix's economic development director, said she is pleased to see the work being done by Urban Communities and would like to help the company take advantage of opportunity zones and HUD financing so lower income people can qualify for housing.
"We want to remain an affordable workforce market," Mackay said. "From an economic development standpoint, the importance of affordability in our housing stock is critical to our continued success of attracting new companies here."