Friday, March 29, 2019 / by Juan Grimaldo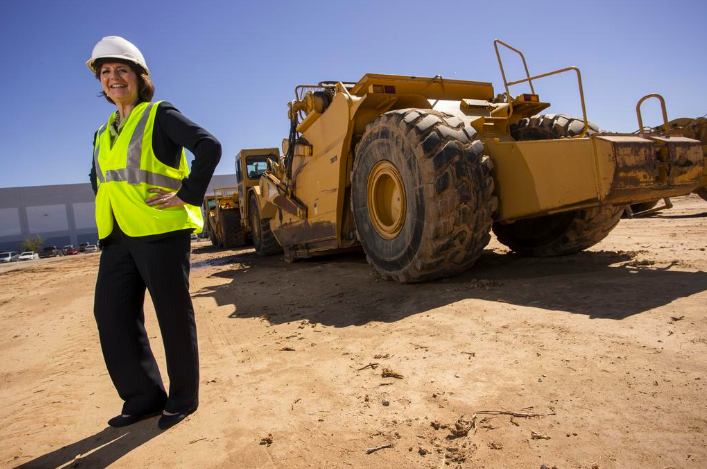 (Image: Jim Poulin, Phoenix Business Journal)
Lori Gary, director of Goodyear's economic development department, hopes to bring in more office space to the West Valley city.



For decades, the East Valley has been dominant over the West Valley in spec office building, but experts say they are seeing that changing, and Loop 101 will be the key to its growth.
According to a report from JLL, a property consultancy company, the southeast Valley market had 11.7 million square feet of Class A inventory with a vacancy rate of 15.2 percent during fourth-quarter 2018.
By contrast, the entire West market area had almost 3.7 million square feet of Class A inventory, with a vacancy rate of 18.6 percent. The price per square foot runs from $22 to $28.
Nonetheless, there are some bright spots to the West.
"Sites fronting the Loop 101, and particularly areas near the [Arizona] Cardinals' stadium, are among the most popular office locations right now in the West Valley," said JLL research analyst Jennifer Farino. "Easy access for commuters and a built-in base of amenities like shopping and dining have helped to draw interest to the area, so there are several office projects in the vicinity that are either in planning or newly constructed."
Farino noted that newly developed office properties or campuses are coming online at the Deer Valley-Interstate 17 interchange.
"This submarket for 2018 had over 365,000 square feet of positive net absorption and a vacancy rate of only 12.1 percent," Farino said of the area's total Class A, B and C inventory.
According to the JLL report, Deer Valley had 1.9 million square feet of Class A inventory with a vacancy rate of 4.4 percent. Class B inventory was more robust at more than 4.3 million square feet and a vacancy rate of 15.4 percent. That was followed by the northwest Phoenix area with 1.1 million square feet of Class A inventory and a vacancy rate of more than 36 percent. Class B inventory was again stronger at more than 3.2 million square feet with a vacancy rate also at 36 percent.
Farther west and south in the West Valley, the Class A inventory drops sharply, in some cases to zero, such as in the Loop 303/Surprise area.
Tom Johnston, senior managing director for Savills Studley in Phoenix, said companies looking for office space see the West Valley as a "primarily industrial market with heavy distribution use."
"So much land and the population has not caught up," he said. "The 101 and 303 corridors are ripe to explode in the next cycle. With Intel, Orbital Science, ASU Research Park, the Tech Corridor — the East Valley emerged. The West Valley could use a significant employer with a strong multiplier effect to experience the same."
Farino agreed the West Valley is perceived as an industrial and warehouse hub "due to its location on the 1-10 and its nearness to sea and international ports."
However, she sees increased activity in office space spec building.
"While the primary attraction is to industrial product, including warehousing and distribution centers and newly developed data centers, office product is starting to scatter into this area as more and more employees and their families begin calling the West Valley their home," Farino said.
What may draw in employers could be the Valley's growth and commuters' unwillingness to travel longer distances across the region to work, Farino said.
"The under-construction Loop 202 expansion will help to relieve some of this traffic, and it will also create new possibilities for both office product and industrial product," She said.
But that's the future. The reality on the ground now is much different.
Lori Gary, director of Goodyear's economic development department, said Goodyear has about 122,000 square feet of vacant smaller office space.
"An additional 126,000 square feet of space is available in FLITE [business park], located in a county island within Goodyear," Gary said. "FLITE offers a contemporary, creative office environment in a unique, retro setting and consists of multiple buildings with high-visibility along Litchfield Road."
But no Class A office space is under construction in Goodyear, despite the city's strong labor pool, Gary said. In the meantime, Goodyear has become inventive in how it uses its current inventory.
"With very little office product available, we have been very creative in working with developers on adaptive-reuse properties, including the repurposing of a vacant retail showroom into 50,000 square feet of office space and the repurposing of 45,000 square feet from a former multiplex cinema into a multi-tenant medical office building."
Unlike some cities in the East Valley or Phoenix, Goodyear is only 11 percent built out. Gary hopes recent business location announcements by Andersen Corp., Arizona Isotope Research Corp., Vantage Data Centers, Stream Data Centers and Microsoft's technology center in Goodyear will attract the "interest of office developers to seriously examine our market."

Author: Janet Perez, Contributing Writer, Phoenix Business Journal