Friday, March 29, 2019 / by Juan Grimaldo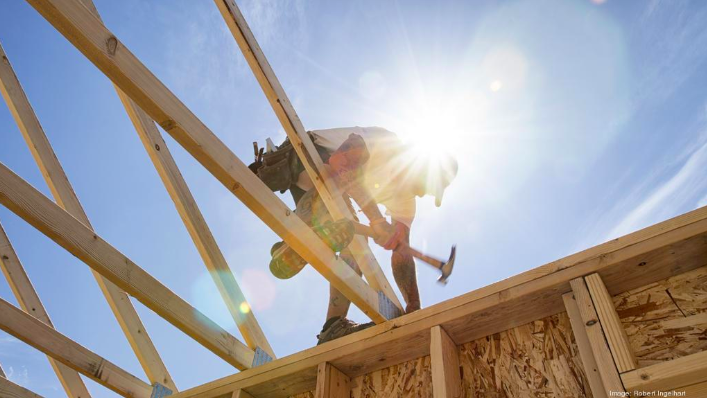 (Image: Provided by Getty Images [Robert Ingelhart])
The homebuilding sector appears to be pointing toward a brighter future, encouraged by wage growth and a recent drop in borrowing costs that has lured buyers back into the market.
Editor's note: This story is available as a result of a content partnership with the Financial Times. Subscribers will see stories like this every day on our website (and in our daily emails) as an added value to your subscription.
US homebuilders bulldozed through a rough day for US stocks on Wednesday, posting solid gains after a pair of companies in the sector signalled a thaw in the housing market this spring.
Lennar, the nation's largest homebuilder, reported first-quarter orders that exceeded its own expectations amid a decline in mortgage rates and moderating home prices. KB Home, whose quarterly profits topped analysts' forecast, also offered a view that the housing market is recovering from its 2018 slog.
The Federal Reserve's about-face on interest rates last week, when the central bank pencilled in zero rate increases this year, should "help to sustain the favorable macro environment," according to KB Home chief executive Jeff Mezger.
"Overall, the backdrop for the homebuilding industry is positive, and we are optimistic about our ability to capture the demand for homeownership," Mr Mezger told analysts during an earnings call.
The builders' optimism drove gains across the sector on an otherwise tough day for US stocks. The Dow Jones US Home Construction Index surged 3.3 per cent to hit its highest level since September 5. PulteGroup was among the biggest winners with a 4.7 per cent gain, while Lennar advanced 4 per cent.
Homebuilders have faced headwinds from elevated prices and interest rates that kept potential buyers on the sidelines, as well as higher lumber prices and a labour shortage. But the industry appears to be pointing toward a brighter future, encouraged by wage growth and a recent drop in borrowing costs that has lured buyers back into the market.
Lennar executive chairman Stuart Miller noted that the group saw increased interest in purchases as the first quarter progressed, "part of an improving and stabilizing housing market."
"We continued to see choppiness in the marketplace during our first quarter, consistent with what we highlighted on our fourth quarter conference call. However, during the quarter, mortgage interest rates subsided and ultimately pulled back and home prices moderated providing a catalyst for the new home market to correct itself," Mr Miller said in a statement.
Mortgage rates sank to an average of 4.45 per cent from 4.55 per cent in the week ending on March 22, the Mortgage Bankers Association (MBA) said Wednesday, well below a peak of 5.17 per cent in November. The group also found that applications for home loans rose 9 per cent last week.
"As we move into the heart of the spring selling season, we are optimistic that we will see a continued improvement in the demand for new homes," Mr Miller added.
Lennar reported a 24 per cent increase in new orders year-over-year during the latest quarter to 10,463 units, aided by its acquisition of CalAtlantic Group. The result topped the high end of Lennar's prior guidance range of 9,700 to 10,000 units.
Order growth and Lennar's upbeat comments on the real estate market overshadowed a disappointing bottom line as earnings per share of 74 cents, up from 53 cents a year earlier, missed Wall Street forecasts by a penny.
KB Home meanwhile said it expected stronger revenues in the second half of fiscal 2019 amid "improving market conditions" and expectations that it can capitalise on demand during the busy spring selling season. In the quarter ending on February 28, the Los Angeles-based company registered earnings per share of 31 cents, better than the 26 cents analysts expected.
© The Financial Times Limited [2018]. All Rights Reserved
FT and Financial Times are trademarks of the Financial Times Ltd.
Not to be redistributed, copied or modified in any way.

Author: Matthew Rocco in New York, Financial Times