Monday, July 29, 2019 / by Juan Grimaldo
Two additional homebuilders have deals in escrow, ready to join project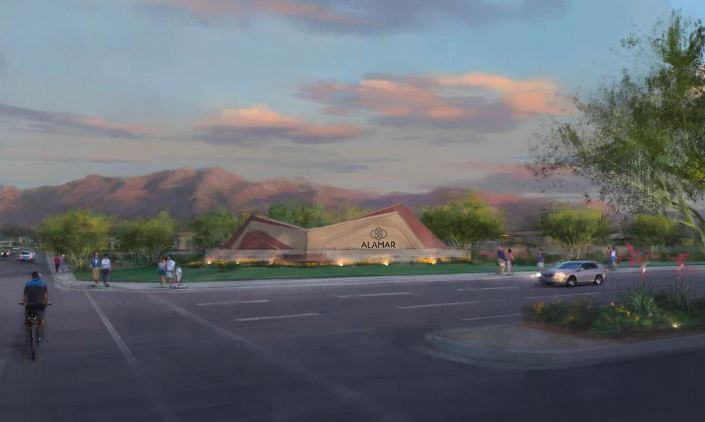 (Image: Brookfield)
A rendering of the entrance to Brookfield Residential's Alamar master-planned community in Avondale.
Brookfield Residential Arizona has added two more homebuilders to its Alamar master-planned community in Avondale, where the Calgary, Canada-based developer is investing more than $200 million to develop the 1,130-acre community.
Scottsdale-based Taylor Morrison Home Corp. (NYSE: TMHC) and Addison, Texas-based Gehan Homes have inked deals to build at Alamar, joining Scottsdale-based Shea Homes and Newport Beach, California-based -based Landsea Homes, which were selected earlier this month.
Two more homebuilders — the ones that will build the largest homes at Alamar — are about to go into escrow and it's too early to name them yet, said John Bradley, president of Brookfield Residential Arizona.
Shea and Landsea will build on 45-foot wide lots, while Taylor Morrison and Gehan will build on 50-foot lots, he said. The last two will build on 60-foot and 70-foot lots.
Once those last two are selected, they will fill out the homebuilders who will build in the first phase totaling 461 homes.
"I would hope they would be in a position to be selling homes in July or August of next year," Bradley said. "We will schedule a grand opening for sometime probably around October of next year."
Alamar is just north of the Sierra Estrella Mountains at Avondale and Broadway boulevards on a 1,130-acre site formerly owned and farmed by the Lakin family. It is entitled for up to 3,695 single-family homes.
Brookfield is working with the city of Avondale to build a 41-acre community park for the entire Avondale community.
"It will have all of the things you would hope it would have in terms of soccer fields, baseball fields, a dog park," Bradley said. "There will be other things we're not ready to share yet that will be unique."
Brookfield also is developing a community park that will be only for Alamar residents and will include a pool and splash pad.
Smaller neighborhood parks will be developed around homes. Called formative parks, these parks will be right out the front door of homes, Bradley said.
The West Valley is becoming more popular with homebuilders, with Meritage Homes buying 145 lots at Marbella Ranch, while Toll Brothers is getting started on Sterling Grove, an 800-acre community in Surprise.
Homebuyers also are showing a strong interest in the West Valley, with five of the six Phoenix-area master-planned communities that made the 50 top-selling communities nationwide being in the West Valley.


By
Angela Gonzales
Senior Reporter, Phoenix Business Journal