Wednesday, July 17, 2019 / by Juan Grimaldo
Development is part of expansive master-planned community in the northwest Valley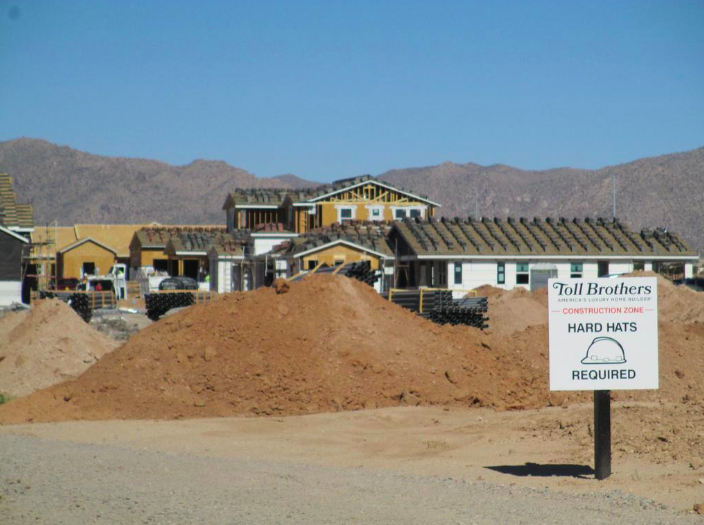 (Image: Joel Chadwick)
Toll Brothers has 14 model homes under construction at Sterling Grove in Surprise.
Toll Brothers Inc. is moving dirt in Surprise for an 800-acre community it has named Sterling Grove.


Construction of 14 model homes can be seen by drivers on Loop 303 in the West Valley, said Bob Flaherty, Arizona division president for Horsham, Pennsylvania-based Toll Brothers (NYSE: TOL).


The company will invest about $250 million to develop Sterling Grove, Flaherty said, which is within the 3,200-acre Prasada master-planned community being developed by a partnership composed of Salt Lake City-based Suburban Land Reserve Inc., Macerich Development, WDP Partners and RED Development. That entire community is on both sides of Loop 303, between Greenway Road and Peoria Avenue.


"The entry has been graded and we're getting ready to break ground on the garden gate," he said. "We're starting to fill our first lakes with water out there, and the golf course has been completely shaped. All of this is really coming together."


The semi-private golf club — also named Sterling Grove — will be managed by Scottsdale-based Troon, the world's largest golf management company providing services at more than 460 locations around the globe.


The golf club will become an exclusive private club reserved for members and their guests, but it will be open to daily-fee and unaccompanied non-member play when the course opens in the winter of 2020 as the community builds out.


Erik Peterson and Araceli Frausto with PHX Architecture are the architects on the project.
Flaherty said everything is on track to begin home sales in January 2020.


"The West Valley is a great growth market right now," Flaherty said. "It's exploding with new business, new homes, commercial. It really has come into its own as a robust place to work and live."

The Valley's housing market remains red hot as more people move to the region, which created more than 66,000 jobs in the past year. Demand for new homes also saw a huge uptick in recent months after sluggish demand to start the year.

By Angela Gonzales – Senior Reporter, Phoenix Business Journal