Wednesday, August 14, 2019 / by Juan Grimaldo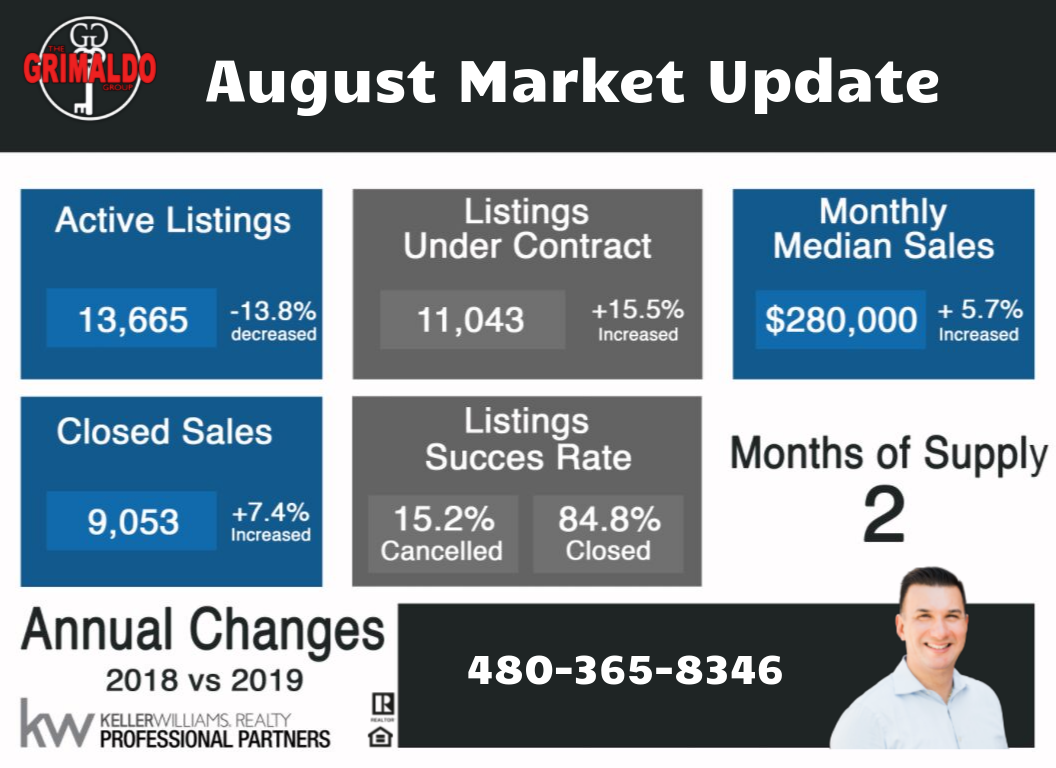 Here are just a few of the Phoenix Metro Real Estate numbers for August 2019, compared to last year...
The main take away:
For buyers:

Inventory of homes is reducing and it is becoming difficult to find homes priced under $500,000. Overall supply is 14% lower than August 2018. There are currently more properties Under Contract than there are Active for sale, all with average sales price of under $400,000. The amount of activity this month is unusual for August in the Valley. Buyers are expected to have an easier time shopping in more expensive areas like Central Phoenix, Ahwatukee, South Tempe and the Northeast Valley, only if they are willing to increase their budget. Projections say prices will not be flattening out or coming down in Greater Phoenix area.


For sellers:

Less and less home owner's are deciding to sell, and supply is at 18 year low. July was the lowest month for new listings since 2001. This is actually a pretty big deal when we consider that we have 50% more people in the Phoenix area than in 2001. Annual appreciation rates in Greater Phoenix is 6.4% with sales between the $225K-500K have been known to have a 3.5-4% rate on average. The average might seem low considering the gap between supply and demand, but appraisers still remain conservative in their valuations.



Lo que esto quiere decir:


Para compradores:


El inventario de viviendas está reduciendo y se está volviendo difícil encontrar viviendas con un precio menos de $ 500,000. La cantidad de casas en el mercado esta en un 14% menos que en agosto del 2018. Actualmente hay más propiedades bajo contrato que activas para la venta, todas con un precio de venta en promedio de menos de $400,000. La cantidad de actividad este mes es inusual para agosto en el valle. Se espera que a los compradores les resulte más fácil comprar en áreas más caras como Central Phoenix, Ahwatukee, South Tempe y Northeast Valley, solo si están dispuestos a aumentar su presupuesto. Las proyecciones dicen que los precios no se nivelarán ni bajarán en el área del Gran Phoenix.
Para vendedores:
Cada vez hay menos propietarios de casas que deciden vender, el inventario no ha estado en este nivel tan bajo desde hace 18 años. Julio fue el mes más bajo para nuevas viviendas al mercado desde el 2001. Esto es realmente un gran problema cuando consideramos que tenemos un 50% más personas en la área de Phoenix, que en 2001. Las tasas de apreciación anuales en area de Phoenix son de 6.4%. Se sabe que ventas entre $225K-500K tiene una tasa promedio de 3.5-4%. El promedio puede parecer bajo considerando la distancia entre casas en inventario y la demanda, pero los evaluadores siguen siendo conservadores en sus valoraciones.



Reference:
Commentary written by Tina Tamboer, Senior Housing Analyst with The Cromford Report ©2019 Cromford Associates LLC and Tamboer Consulting LLC
We are in a seller's market! And we also need more home inventory. Do you know someone who is thinking of selling their home? Have them call us today, 480-365-8346!