Thursday, April 18, 2019 / by Juan Grimaldo
Price tag for the land purchase was $37 million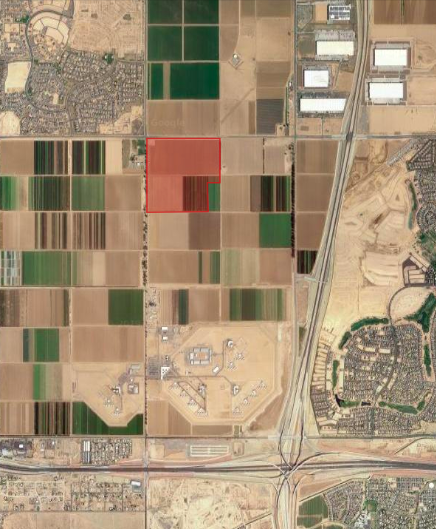 (Image: Provided by Vizzda)
An aerial map shows the 147 acres of land purchased by Microsoft in Goodyear, the tech giant's second massive land buy in the city. The acreage is shown in red.
Microsoft Corp has paid $37 million for another 147 acres of land in Goodyear, according to real estate database Vizzda.
It's the second land acquisition by the technology giant in the West Valley city within the past 9 months.
The new parcel, located north of Interstate 10, is vacant with no adjacent development. The tech giant bought the land from DRI FR GOODYEAR LLC. It is located in a planned area development called PV303 West III.
A city spokeswoman said no formal documents have been filed for the new parcel, but the city is expecting a development agreement to go before City Council likely in May.
In December, the city approved a preliminary plat on the site to allow four industrial lots.
The latest parcel, located at Citrus and Indian School roads, is about 9 miles from another 279-acre high-profile site the tech giant bought in Goodyear for $48 million last summer. That location is at Maricopa County 85 and Lower Buckeye Road.
Goodyear City Council has since approved an expedited development on the first site. Very few details have been given about what is planned for the parcel, which has only been referred to as a "technology center" in public discussion and documents.
The city agreed to allow Microsoft to proceed with the development of the first two buildings on the first site before the utility infrastructure study is completed, as long as Microsoft agrees to design and construct necessary utility infrastructure improvements. The agreement states Microsoft's development will be no more than five buildings.

Author: Corina Vanek, Reporter, Phoenix Business Journal