Friday, June 14, 2019 / by Juan Grimaldo
From the Editor: Taking Arizona's fight to the streets of San Francisco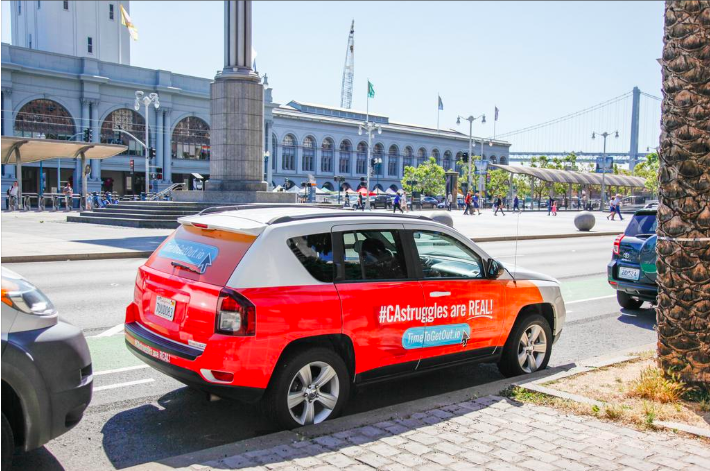 (Image: Matt Lorenz / Allison+Partners)
One of the 'billboard' vehicles hired by Greater Phoenix Economic Council to drive around the streets of California to help urge residents to move to Arizona.
While everything may be bigger in Texas, Chris Camacho is gambling on another slogan: Everything's better in Arizona.
That point is literally being driven home by a fleet of two dozen Toyota Prius vehicles traversing Bay Area streets wrapped in colorful signage bearing the hashtag #CAstruggles and the not-so-subtle slogan for the campaign, "TimeToGetOut."
"Our job is to put greater Phoenix on the map for our technology job growth," Camacho said. "We want people to know that [places like] Seattle and Austin are also seeing rising costs and affordability issues, and that we have more land [for expansion] and better housing options."
Camacho, GPEC's president and CEO, said the vehicles will drive around the Bay Area — and hopefully won't get stuck on the 101 — for two weeks. Meanwhile a meme-filled social media campaign run out of GPEC's Phoenix office on Twitter that pokes fun at California's cost of living (@CAstruggles) has built up nearly 15,000 followers. There's also a "Time to Get Out" websitecomparing Arizona to California.
Wait, there's more. Camacho told me once the Bay Area campaign ends June 24, GPEC will target one or two other California cities with the street-level strategy. At the same time, direct-mail campaigns aimed at the CEOs and HR managers at specific Golden State companies will be launched.
For years, states from Texas to Colorado have set up billboards in California or sent high-ranking officials on junkets to make a case for corporate relocation or expansions in their backyards.
Texas, arguably Arizona's chief competitor, has had some huge wins during the past few years, from the massive Toyota campus in the Dallas-Fort Worth metroplex, to the new $1 billion Apple campusto open in Austin in 2021.
Still, we're starting to get our fair share of escapees. A recent Business Journal cover story noted that, of the 47 corporations that relocated to Arizona or opened new headquarters in the state since 2014, about a third came from California.
While GPEC has beat the drum about California's regulatory climate and cost of living for a few years, Camacho said the new campaign was sparked by a couple of things. About a year ago, he took notice of high-profile Silicon Valley venture capitalists such as Steve Case talking about the emergence of non-coastal cities as future tech markets, followed by a recent survey of millennial workers in the Bay Area saying 50% planned to leave due to the cost of living.
"That's really what struck a nerve," Camacho said. "That [California workers] are talking more about leaving without being prompted."

By Greg Barr – Editor in Chief, Phoenix Business Journal