Monday, March 25, 2019 / by Juan Grimaldo
Increased activity around spring training fields helps drive development in those areas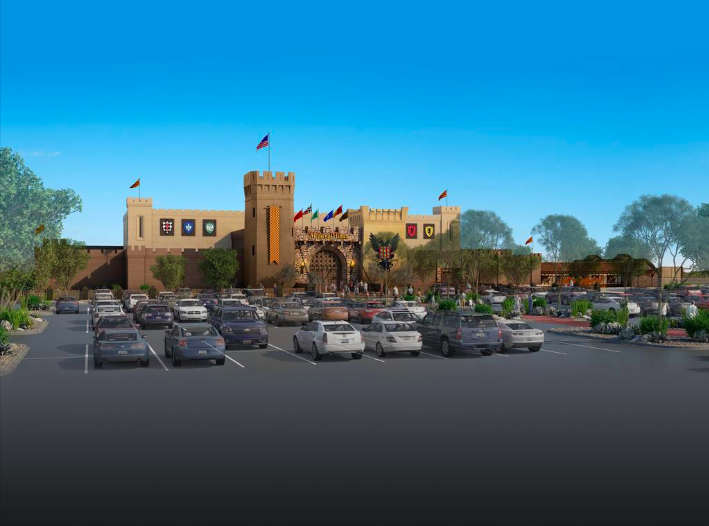 (Image: Courtesy Medieval Times)

A rendering of Medieval Times' Arizona castle, set to open in 2019. The project is one of many new additions in the Salt River entertainment corridor.
The throngs of fans who attend spring training baseball games in the Valley generate hundred of millions of dollars in economic impact but may also be influencing future development of "entertainment corridors" in areas around some Cactus League fields.
Aaron Studebaker, community development project manager for the Salt River Pima-Maricopa Indian Community, said Friday the addition in 2010 of Salt River Fields at Talking Stick, the spring training facility for the Arizona Diamondbacks and the Colorado Rockies, was a "heartbeat" added to the community's entertainment district.
Studebaker and other tourism and development leaders spoke on tourism's effects at a panel discussion hosted by the Valley Partnership.
"It puts a new spin on interest in the community," Studebaker said of the complex's 500,000 annual visitors, who attend baseball games as well as other events hosted at the stadium throughout the year.
Since Salt River Fields opened, the nearby shopping center, Pavilions at Talking Stick, has filled with retail tenants, with new pads under construction, he said. Other entertainment-oriented businesses, like Great Wolf Lodge, a hotel and water park, and Medieval Times, a dinner theater that includes a jousting show, have chosen the reservation for their first Arizona locations.
While the proximity to Peoria Sport Complex likely was not the only deciding factor for Opus Group when it chose to develop P83, a 10-building apartment complex in Peoria near Bell Road and 83rd Avenue, Brett Hopper, senior vice president of Opus, said the company looks for distinguishing characteristics of the areas where it chooses to build. The development is part of an entertainment district designated by the city of Peoria.
"The sports complex spawned all sorts of development around it," Hopper said of the spring training facility for the San Diego Padres and Seattle Mariners. "This is destination-oriented."
In 2018, total attendance for the Cactus League games was 1.77 million, down from a record of 1.91 million set in 2017. League officials expect attendance to dip again this season with fewer games scheduled than in 2018.
Author: Corina Vanek, Reporter, Phoenix Business Journal