Wednesday, May 8, 2019 / by Juan Grimaldo
Water feature was designed to resemble the Roosevelt Dam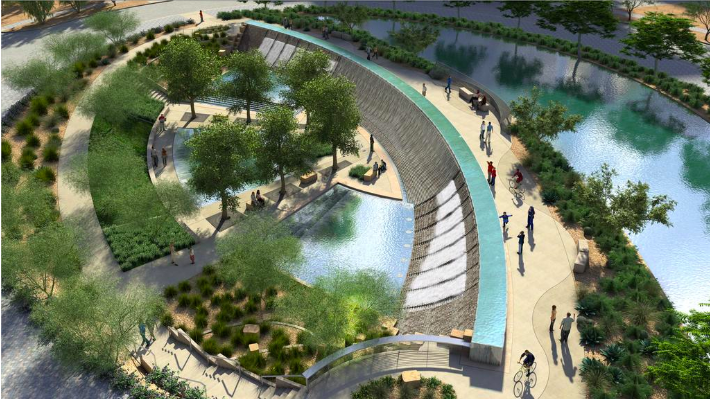 (Image: Provided by Lincoln Property Co.)
The water feature at the Grand at Papago Park Center was designed as a modern interpretation of the Roosevelt Dam.
Creating a one-of-a-kind water feature at the Grand at Papago Park was so important that developers re-routed a canal in Tempe to make it a reality.
The water feature began construction in early 2019 and will be completed in August, said officials from Outside the Lines, a design-build construction company that specializes in water features, rockwork and themed environments.
"The water feature is the crowning jewel," said Dave Krumwiede, executive vice president at Lincoln Property Co., which is developing the office portion of the Grand. "It's a tip of the hat to the foundation of the Valley."
The feature was created to be a stylized representation of the Roosevelt Dam.
"It's amazingly beautiful, a great place for folks to congregate or have lunch," Krumwiede said. "It's something to attract office users, residential users and the future hotel."
Outside the Lines is completing the installation of the mechanical and electrical systems for the water feature, which was designed by WET Design. The systems will simulate a dam releasing water. Companies involved declined to disclose the cost of constructing the water feature.
"These are relatively complicated items to build," said J. Wickham Zimmerman, CEO of Outside the Lines. "You need a keen eye and good understanding of how this will work."
Complex water features and other amenities can make a project stand out when trying to attract tenants, said Chris Roy, director of creative design for Outside the Lines.
"Across the industry in Class A office spaces developers want more amenities that are more attractive to tenants," Roy said. "They want to hang out in a beautiful place without having to go off site."
Krumwiede said the second office building at the Grand is expected to complete construction this summer. The third building in the development is expected to begin construction by the end of the year.
The buildings are part of 1.8 million square feet of Class A office space being developed by Lincoln Property Co. at the Grand at Papago Park Center, a 60-acre mixed-use development that, at build out, will total 3.2 million square feet of office, multifamily, hotel, retail and restaurants.
The project is located between Center Parkway, Priest Drive, Washington Street and Loop 202.

By Corina Vanek – Reporter, Phoenix Business Journal