Monday, April 1, 2019 / by Juan Grimaldo
City Council approved the first phase in 2017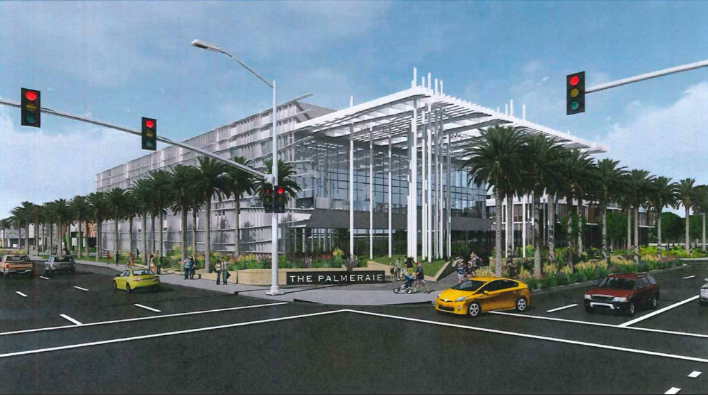 (Image: Provided by City of Scottsdale)
An artist's rendering shows the view of the second phase of the Palmeraie from the intersection of Scottsdale and Indian Bend roads.
Weeks after beginning construction on the first phase, Five Star Development has submitted plans for the second phase of the Palmeraie, a luxury mixed-use development between Paradise Valley and Scottsdale.
The second phase of the development would consist of office, retail and residential components, totaling roughly 480,000 square feet of development on nine acres of land, according to documents submitted to the city of Scottsdale to rezone the parcel, which is currently vacant.
The second phase is planned to be constructed north of the first, at the southwest corner of Scottsdale and Indian Bend roads.
The first phase of the Palmeraie was approved in 2017 and began construction in February.
Between the two phases, the Palmeraie will total 138,000 square feet of retail; 54,000 square feet of food and beverage; 146,000 square feet of office and 282,000 square feet of residential on 20 acres of land.
Five Star is also the developer behind the $2 billion, 122-acre resort communityanchored by the Ritz-Carlton nearby in Paradise Valley.
Documents submitted to the city of Scottsdale show the project is planned to have a central plaza with a water feature and tree cover, and landscape design to integrate the second phase with the Ritz-Carlton.

Author: Corina Vanek, Reporter, Phoenix Business Journal