Friday, March 22, 2019 / by Juan Grimaldo
Vacancy in the submarket expected to tighten as rents increase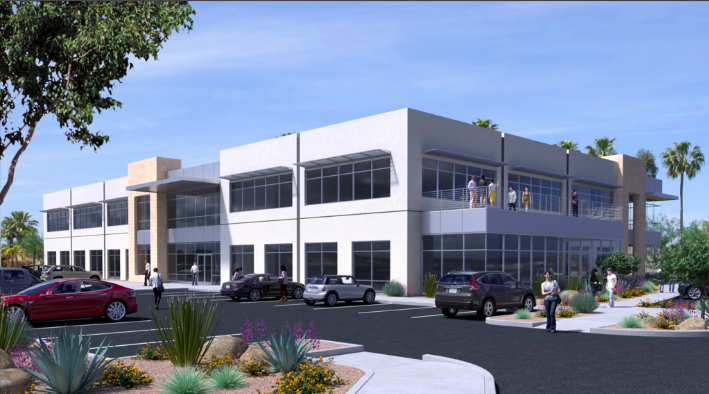 (Image: Provided by Irgens)
An artist's rendering shows the planned office and medical complex under construction by Irgens Partners Inc. in North Scottsdale.



A 47,322-square-foot Class A office and health care facility that began construction Wednesday is the latest addition to the Scottsdale Airpark submarket, an area that has continued to outpace experts' predictions for growth.
The building, which will be developed by Irgens Partners Inc., will be located in the Perimeter Center, near Princess and Perimeter drives.
"This project is the second building within the Irgens Perimeter Center project," Jason Meszaros, senior vice president and managing regional director of Irgens, said in a statement. "The building is already attracting substantial tenant interest and we anticipate a fast lease-up."
The addition of that new Class A building falls is indicative of even more growth on the way in the Scottsdale Airpark submarket. At the end of 2018, the submarket had a vacancy rate of 8.5 percent, the first time since the recession that the submarket ended the year with a vacancy rate below 10 percent, according to a report on the submarket released by Colliers International.
About 59,132 people are employed at 3,233 companies within the submarket, the report said. Jim Keeley, founding partner of the Colliers International Scottsdale office, said in the report that he expects employment in the submarket to balloon to 82,000 by 2030, and the number of companies located in the submarket to grow to 4,100.
Keeley forecasted that the submarket will see higher occupancy rates and higher rents in 2019, and more property owners in the submarket will be selling property to capitalize on the economic cycle.
The submarket has been a location of choice for several major real estate projects, including Nationwide's planned Cavasson project, a 130-acre mixed-use project worth nearly $1 billion that will also serve as a regional headquarters for Nationwide.
Airobotics, an Israel-based drone company, moved its U.S. headquarters to the area late last year.


Author: Corina Vanek, Reporter, Phoenix Business Journal