Tuesday, April 9, 2019 / by Juan Grimaldo
West Valley a driver in new development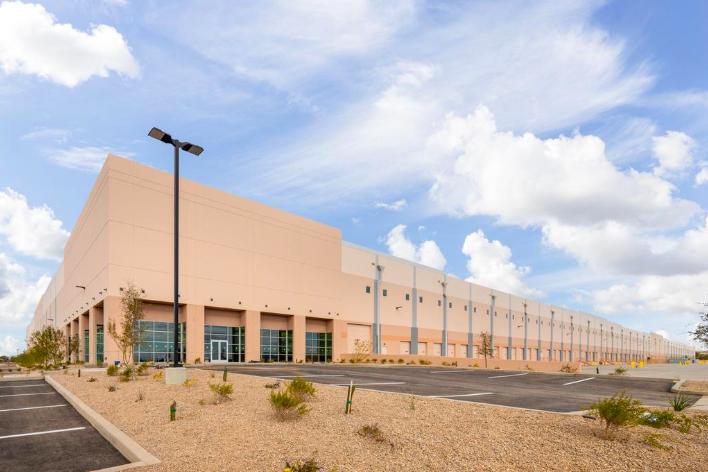 (Image: Graycor Construction Co.)
The first phase of the Ten Distribution Center in west Phoenix completed construction.
The Phoenix region is on track to have 6.5 million square feet of industrial space constructed in 2019, the sixth-largest expected delivery of commercial real estate markets nationwide.
According to a study by Commercial Café, the Valley has 34 developments of at least 90,000 square feet scheduled to come online this year.
Most industrial development underway in the Valley is speculative, according to Rusty Kennedy, senior vice president at CBRE. Valleywide, the vacancy rate for industrial properties was at 6.6 percent at the end of 2018, the lowest year-end rate since 2005, according to CBRE, which set high expectations for industrial construction and absorption in 2019.
Industrial developers and economic development leaders have touted the Valley, particularly the West Valley, as an ideal location for industrial tenants due to its proximity and easy access to California and other Southwest markets.
The first phase of the Ten Distribution Center near 83rd Avenue and Loop 101 was completed in March, creating 1.1 million square feet of speculative space, in what will eventually be a $300-million, 3.6 million-square-foot industrial park.
Southern California's Inland Empire topped the list for the most active industrial development market, with 74 buildings totaling 19.7 million square feet scheduled to come online this year, according to the study. Chicago ranked second on the list, followed by Dallas-Fort Worth, New Jersey and South Carolina.

Author: Corina Vanek, Reporter, Phoenix Business Journal