Wednesday, April 10, 2019 / by Juan Grimaldo
New fund seeks $20M to revitalize dilapidated Valley properties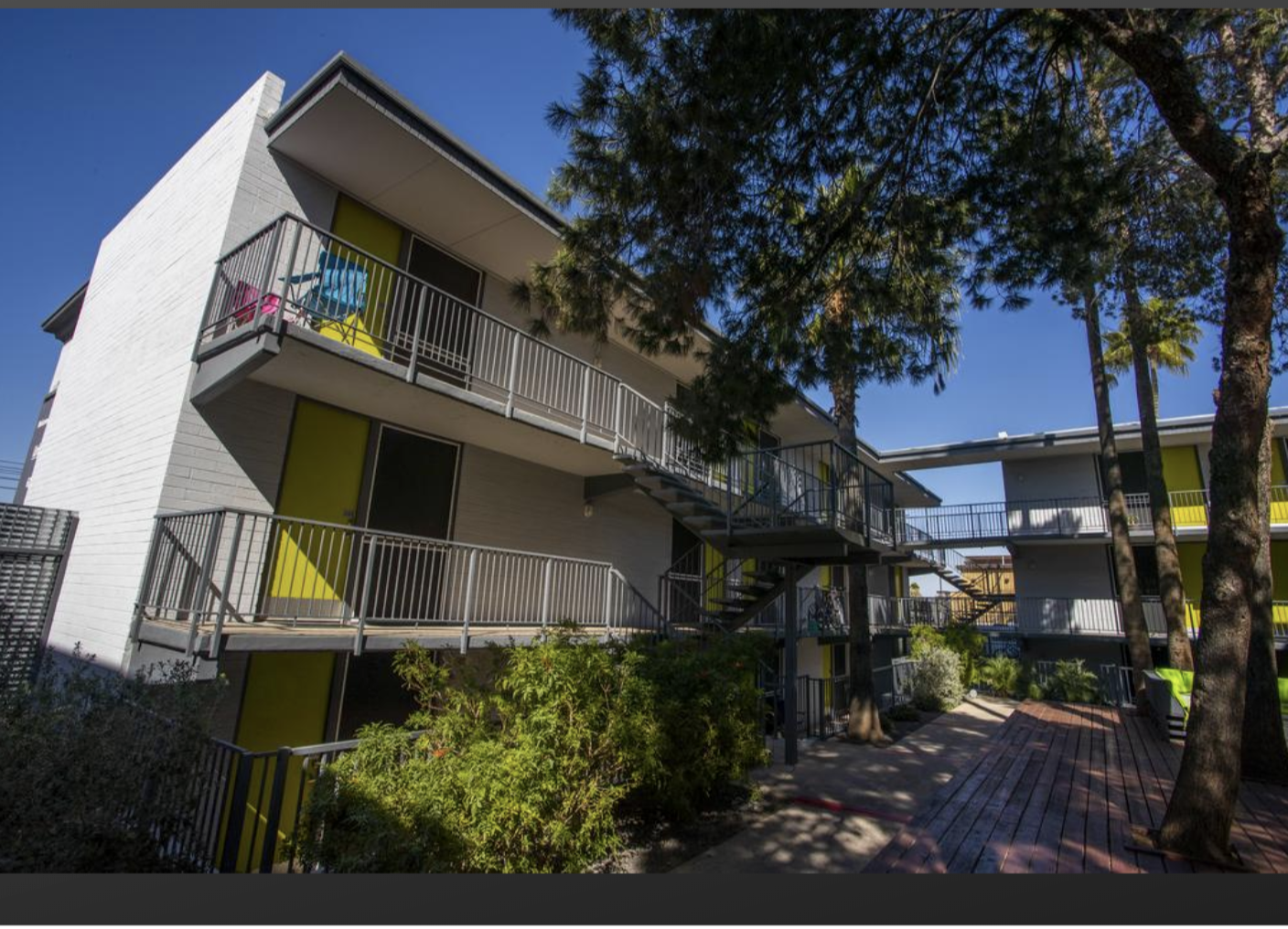 (Image:Jim Poulin, Phoenix Business Journal)
Urban Communities LLC bought this property at 1601 W. Camelback Road in Phoenix and has converted it into workforce housing.
A Phoenix developer has plans to offer much-needed workforce housing while ridding some Valley neighborhoods of gangs, drugs and prostitution by raising $20 million to buy and renovate dilapidated apartments through a new real estate fund.
When Phoenix-based Urban Communities LLC bought its first property at 1601 W. Camelback Road in Phoenix, the apartments were overflowing with gangs, drugs and prostitution, said Maximiliano Palacio, president of Urban Communities.
"He's not kidding," added Christine Mackay, economic development director for the city of Phoenix.
After hours of renovations — much of it with his own hands — Palacio said the property is nearly 100 percent leased, offering rents under $1,000 for the working class.
Palacio said he's focused on workforce housing because the demographics are woefully underserved.
"They have not been taken care of," he said. "These are the people that actually build the community. By providing them not just a safe and clean place, but providing them something they can be proud of where they live and by cleaning the neighborhoods from blight is improving the whole community."
What's more, Palacio recently bought the apartments next door and is in the process of renovating that complex.
"He's doing a brilliant job," Mackay said. "I love they're focused on that western Camelback Corridor."
With Urban Communities serving as the general partner of the $20 million fund, the money will be used to continue to buy Class B and Class C multifamily units throughout metro Phoenix, renovate them and offer affordable rents, said Kirk Howell, COO of Urban Communities.
"We buy the properties, renovate them and stabilize them," Howell said. "Basically, the fund is the vehicle to build a portfolio."
Once a property is stabilized it will be sold to a real estate investment trust controlled by Urban Communities, he said.
That REIT will hold properties long term with perhaps a different investor profile, one that is looking for less risk and a smaller return on their investment, he said.
The fund will close in June, or earlier if the full $20 million is raised, Howell said.
Plans call for buying a handful of properties with the fund this year, which includes one just purchased in March.
Urban Communities paid $8.73 million to Familia De Tres LLC for a 125-unit Mountain View on Central, 8818 S. Central Ave. in Phoenix, according to Vizzda real estate database. Kidder Matthews represented the buyer and seller in that transaction.
Once Fund 1 closes, plans call for starting Fund 2, which would be around $50 million to buy 15 to 20 properties nationwide, Palacio said.
Palacio said he wouldn't be able to buy and renovate this many properties without the expertise of Peter Thomas, who before agreeing to become chairman of Urban Communities had developed several billion dollars of projects nationwide, including the Four Seasons Resort in Scottsdale and bringing franchising rights of Century 21 Real Estate to Canada.
Palacio had been buying and renovating apartments on his own, one at a time, mainly renovating the properties on his own until he met Thomas.
With Thomas' experience, they created the syndicate to raise money to get the projects done faster.
"We're making a profit by doing good," Thomas said. "You change entire lives. We can deliver a product without raising rents by saving expenses — the way we set up HVACS. With hands-on management, we can cut the expenses."
By Angela Gonzales – Senior Reporter, Phoenix Business Journal