Wednesday, March 4, 2020 / by Juan Grimaldo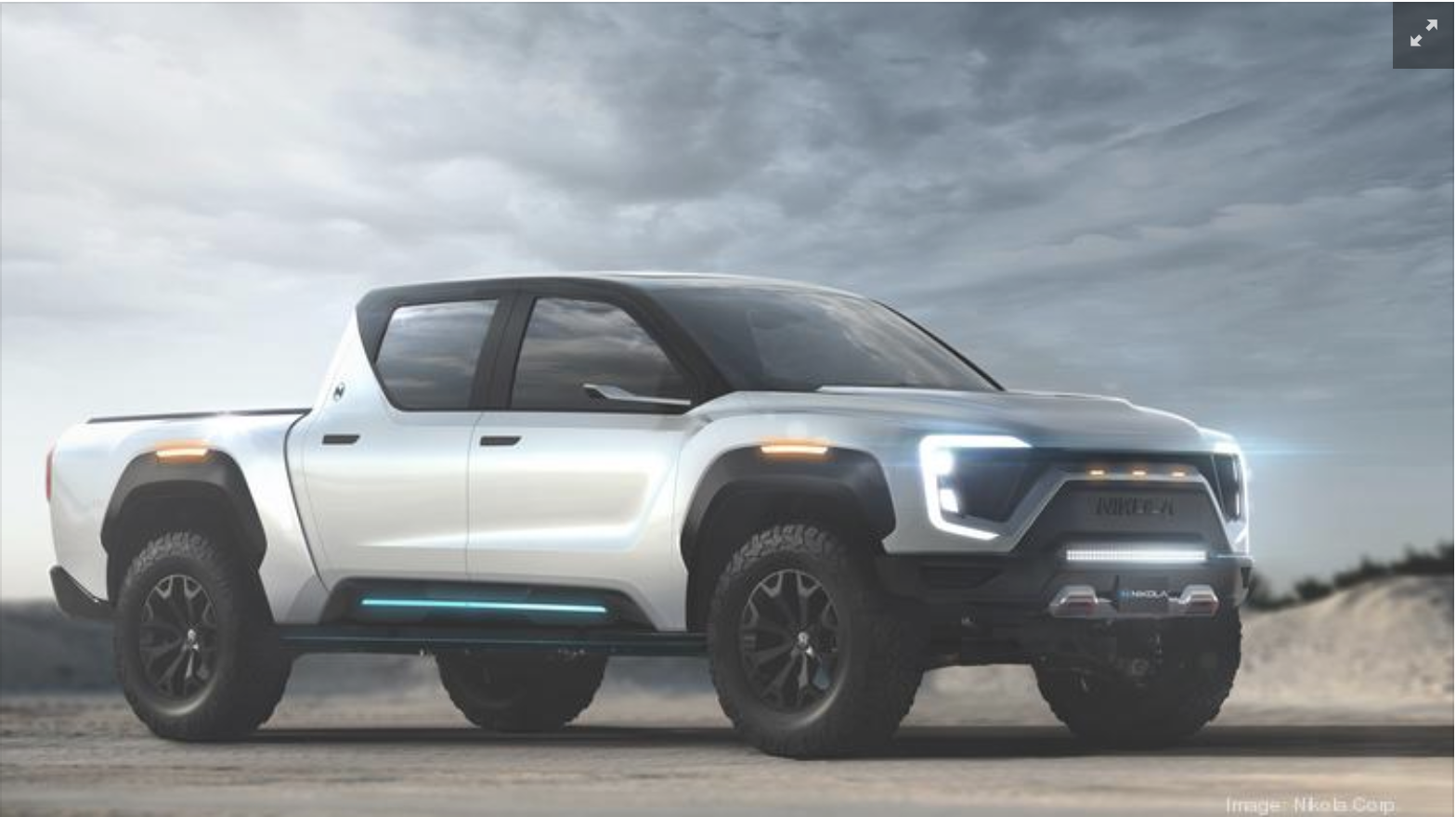 NIKOLA CORP.


Nikola Corp., the Phoenix-based battery- and hydrogen-fuel-cell electric vehicle startup, will be a public company following a merger.
Nikola announced Tuesday it was merging with VectoIQ Acquisition Corp. (Nasdaq: VTIQ), a publicly traded special-purpose acquisition company.
Now that the five-year-old company intends to be publicly traded, for the first time it revealed revenue projections. If the company's lofty predictions and assumptions hold true, those numbers are staggering.
Nikola anticipates projected revenue of $150 million in 2021 and then quickly ramping up to more than $3 billion in projected revenue by 2024, said Kim Brady, Nikola's chief financial officer, who will remain with the new public company.
"These numbers assume a projected 600 battery-electric trucks are sold in 2021, and up to 7,000 battery electric trucks and 5,000 fuel cell electric trucks sold in 2024," Brady said in a conference call Tuesday morning. "With the first three years of manufacturing capacity already booked, we have good visibility into future performance."
Nikola will add Stephen Girsky, current CEO of VectoIQ and the former vice chairman of General Motors Corp., to its board of directors. Girsky said since VectoIQ's initial public offering in May 2018, the company has searched to find a partner that was a proven teach leader focused on making a global difference, and Nikola was the "clear winner." VectoIQ has looked at hundreds of companies in the process.
"We hoped to find a deal this attractive for both current and future stakeholders," Girsky said in the conference call. "We have been able to raise one of the largest private investments in public equity to date alongside this combination."
TRENDING
RESIDENTIAL REAL ESTATE
PBJ Cribs: Retired Valley developer shows off her luxury condo
Elizabeth Stegall, a retired real estate developer, stands on the patio of her Optima Kierland 11th floor condo on the Phoenix/Scottsdale border.
RESIDENTIAL REAL ESTATE
Arizona governor sells Valley home for $8.15M
Arizona Gov. Doug Ducey's Paradise Valley home sold for $8.15 million. Click through the images to see photos inside and outside the home.
HIRING IN ADMINISTRATIVE AND CLERICAL
General Manager
Troon Golf, L.L.C.
The company's stock moved sharply higher Tuesday on the news, gaining $1.18 or 11.4% to close at $11.50. Follow the stock here.
The combined company will focus on developing the next generation of smart transportation. The Nikola Corp. name will remain, and it is expected to be listed on the Nasdaq under the new ticker symbol "NKLA" once the transaction has been approved.
The transaction's implied enterprise value at closing is $3.3 billion. The transaction includes a $525 million fully committed common stock private investment in public equity, or PIPE, at $10 per share.
The shares are anchored by investors including Fidelity Management & Research Co., ValueAct Spring Fund and P. Schoenfeld Asset Management LP.
Alan Annex, co-chair of Greenberg Traurig's global corporate practice, led the Greenberg Traurig team that served as legal advisor to VectoIQ.
"This is an example of how a SPAC (special purpose acquisition company), coupled with a strong pipe, can be used as an alternative to a traditional IPO," Annex said in an email to the Business Journal. "It's faster and gives the target more control over the valuation."
Nikola will use the proceeds to accelerate its portfolio of electric semi-trucks and other vehicles. Nikola also plans to build out the extremely critical hydrogen infrastructure that will allow its vehicles to be refueled. Nikola said it will build 700 hydrogen stations in North America by 2028, along with 70 stations in Europe by 2032.
Mark Russell, who joined Nikola as president in 2019, will serve as the new CEO of Nikola. Russell has more than 20 years of experience building and managing companies in the manufacturing industry. He previously served as president and COO of Worthington Industries, a publicly traded metals manufacturing company.
"We are very excited about this milestone in our journey," Russell said in the conference call. "We offer essentially freight-as-a-service with our bundled lease offer," which includes the semi-truck, maintenance and fuel.
Nikola expects to generate $173,000 in cash for each bundled lease sold, Brady said.
Nikola founder and CEO Trevor Milton will serve as executive chairman of the new merged company. He said being listed on the Nasdaq "was a dream" of his and he's ready for the next 20 years of growth.
"We both share the vision of a zero emission transportation future," Milton said in the conference call. "When we first announced the Nikola One truck in 2016, we knew that vertical integration was key. We can now offer an all-in lease rate that can fix the total cost of ownership to seven years."
Nikola has more than 14,000 preorders, which the company said represents more than $10 billion in potential revenue and three years of production work. The company's biggest client, Anheuser-Busch, ordered 800 Nikola semi-trucks as part of its sustainability efforts.
"As we reach one year from delivery, we anticipate receiving significant deposits towards fuel-cell electric trucks from those customers," Brady said.
Nikola has not disclosed any battery-electric truck reservations but Brady said negotiations are entering final stages.
As Nikola prepares to build its 1 million-square-foot Arizona truck plant in Coolidge, south of Phoenix, starting at the end of the year, it is partnering with IVECO and FPT Industrial, the commercial vehicle and powertrain brands of CNH Industrial NV, to manufacture Nikola's first semi-truck in Ulm, Germany at the IVECO manufacturing facility.
London-based CNH Industrial invested $250 million in Nikola in September through its current $1 billion Series D round.
Nikola has 260 employees and continues to hire, with plans to bump the payroll up to 400 workers by the end of the year.
Nikola opened its $75 million Phoenix headquarters in June 2019, where it is doing prototype and limited production work on its vehicles until the Coolidge facility is finished.

Author:By Hayley Ringle – Reporter, Phoenix Business Journal