Thursday, May 2, 2019 / by Juan Grimaldo
Hot economy has put pressure on the construction industry to hire, train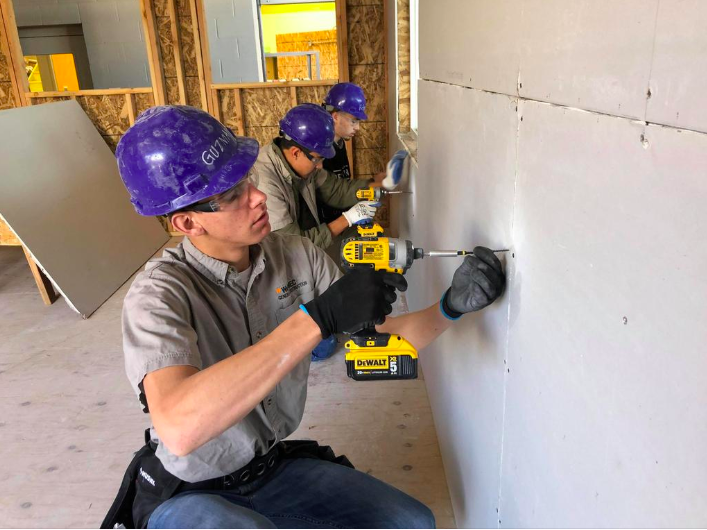 (Image: Corina Vanek)
Camden Guzman, Nikolas Panousopolous and Joshua Fitzgerald work on a construction project during a class at West-MEC. The three are taking construction courses through the career and technical education program.
The Phoenix metro added 13,800 new construction jobs during between March 2018 and March 2019, the most of any metro nationwide during that time.
At the end of March, 134,900 people were employed in construction jobs in the Phoenix area, according to the Associated General Contractors of America. At its lowest point following the recession, in March 2011, only 80,000 people were employed in construction in the Valley.
Since the recession, Phoenix has become "one of the best construction job markets in the country," said Brian Turmail, spokesman for the Associated General Contractors of America.
However, Valley construction employment could have grown more if not for a shortage of workers entering the trades, Turmail said.
The AGC of America released a workforce development plan, calling on federal authorities and local companies to address the needs of the industry. Requests from the plan include doubling career and technical education funding nationwide, changing the way high schools measure success by including students who enter a high-paying career like construction and reforming immigration policies to allow more people to work legally in construction and creating a path to legal status for undocumented workers in the United States.
"The undocumented are vulnerable to being taken advantage of by unscrupulous contractors," Turmail said.
In Arizona, the Arizona Builders Alliance, an industry group affiliated with AGC, is advocating for restored fourth-year funding for career and technical education programs, said alliance President Tom Dunn. The funding was proposed in the legislative session and likely will be part of budget discussions.
Dunn said Arizona's strong economic climate has exacerbated competition for talented industry workers, but the shortage has the potential to stall areas of the state's economy.
The AGC in Arizona also is using a training program through which people looking to get into construction can take courses and receive on-the-job training through apprenticeships, said Corey Foster, a workforce development specialist for AGC. Once recruits finish the training, they are offered a full-time job with a member company.

By Corina Vanek – Reporter, Phoenix Business Journal