Thursday, March 21, 2019 / by Juan Grimaldo
Move sends developer back to the drawing board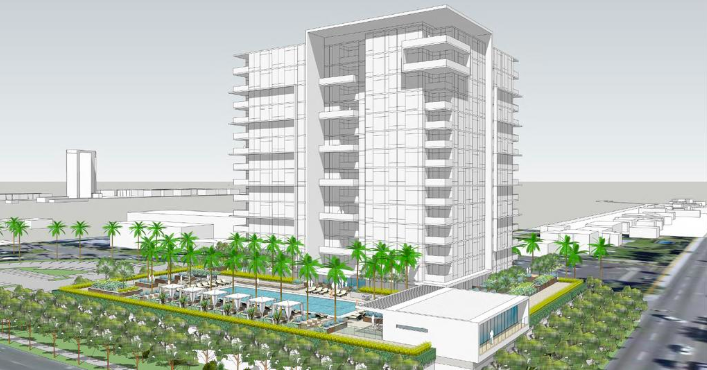 (Image: Sunbelt Holdings)


The Phoenix City Council unanimously rejected this proposed project in the Phoenix Country Club parking lot.
Phoenix City Council unanimously voted against a controversial high-rise zoning request — but left the door open for future discussions.
Sunbelt Holdings Inc.'s plans to build a 125-unit, $75 million high-rise condominium tower on the parking lot of the Phoenix Country Club was strongly opposed by many residents, who maintained in campaign-style signage posted on street corners in the area that "height is blight."
Instead, Council voted to deny the high-rise zoning request as well as capping any future developments at the northeast corner of Seventh Street and Thomas Road to 110 feet — essentially cutting in half what Sunbelt requested.
"I want to approve mid-rise zoning temporarily to settle the height debate," Councilmember Laura Pastor said in her motion to deny high-rise zoning. She represents District 4, which includes the Phoenix Country Club site. She also required the developer to work on a planned unit development within 12 months.
During the past month, Pastor met with neighbors and the developer in an attempt to craft an agreement, but after all those talks, the building height was still the biggest issue.
When Sunbelt CEO John Graham originally submitted his zoning request to the city, the tower started out at 225 feet high, which is the same height as Crystal Point condominium tower at Ninth Street and Osborn Road.
Pastor also presented a long list of other stipulations in her motion, including studying the feasibility of the reversible turn lanes along Seventh Street near the project.
Author: Angela Gonzalez, Senior Reporter, Phoenix Business Journal