Tuesday, April 16, 2019 / by Juan Grimaldo
Development agreement to be considered in June or early July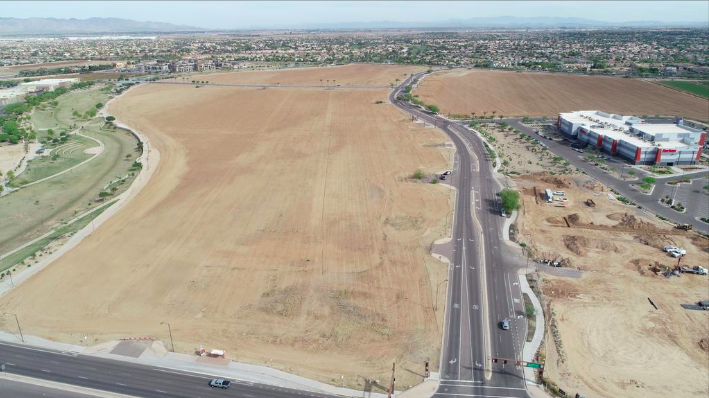 (Image: Provided by the City of Goodyear)
The city of Goodyear and Globe Corp. plan to partner to develop city facilities and a mixed-use business complex on land owned by Globe.
The city of Goodyear and Globe Corp., a Scottsdale-based developer, have taken the first step to partner in what the city hopes will be a catalyst for more West Valley development.
At its April 8 meeting, the Goodyear council approved a letter of intent to enter into a public-private partnership with Globe to create a new city hall, community gathering place and Class A office space near 150th Drive and McDowell Road.
Early plans call for Globe to develop the city facilities and donate the land, about 7 acres, to the city, while it retains ownership of the office buildings, Goodyear City Manager Julie Arendall said.
Goodyear's city hall has been in an interim space since 2001, and the city has been interested in a new building since 1984, when it purchased 40 acres on which to develop one.
Globe owns 47 acres of land, a portion of which will be developed to house the new 120,000-square-foot city hall and city departments. In the first phase of the development, Globe also will create a 2-acre public park and 100,000-square feet of speculative Class A office space.
"The West Valley does not have a good supply of Class A office space," Arendall said. "We've been unable to compete for Class A office projects."
Arendall said the majority of companies looking to relocate or expand to the Valley want existing space, so the West Valley has lost out on many companies looking to move.
Both the city and Globe Corp. are "confident" the development will be able to attract well-known tenants that can capitalize on a 1.5 million-person workforce living within a 30-minute commute of the site, Arendall said.
"We're excited to enter into this public-private partnership with Goodyear," said Mike Olsen, Globe Corp. CFO, in a statement. "We know the Goodyear community has been asking for this type of mixed-use space for years, and we're confident this project will be the catalyst to activate the area to bring in new office, residential, restaurants and other retail options."
Once the first phase is complete, the remainder of the land owned by Globe will be available for mixed-use development, Arendall said. The city hopes to create a daytime population in the area to support additional retail and restaurants in the area.
"We are aiming for an urban, walkable-type project," Arendall said.
Arendall said the next step, the development agreement, will go before council in June or early July. The project is expected to be completed by mid-2022.
"Goodyear has envisioned a city hall project like this for decades," Mayor Georgia Lord said in a statement. "Our current city hall, which requires future funding for reinvestment and expansion, was meant to be temporary. As Goodyear grows faster than ever before, now is the time to invest in our city's future through this much needed project."

Author: Corina Vanek, Reporter, Phoenix Business Journal