Friday, April 5, 2019 / by Juan Grimaldo
East Coast group previously owned a handful of properties in the Valley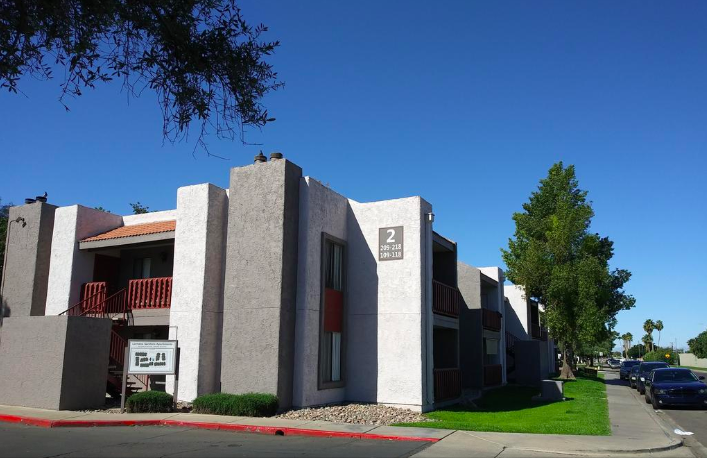 (Image: Angela Gonzalez, Phoenix Business Journal)
This apartment complex at 4529 W. Ocotillo Road in Glendale was part of a recent $211 million portfolio sale.



New York-based AllianceBernstein U.S. Real Estate Partners has come back to the Phoenix market in a big way.
The real estate company shelled out $211 million for a 12-property, 2,182-unit portfolio of apartments, according to the Kasten Long Weekly Apartment Closing Update.
AllianceBernstein previously bought two properties in the Valley in 2016 but sold them last December, said Linda Fritz-Salazar, associate broker and senior partner for Kasten Long Commercial Group.
Selling the $211 million portfolio was a Canadian investment firm, Western Wealth Capital, which declined to comment on the transaction citing confidentiality agreements.
Also unable to talk about the deal were the brokers, Steven Gebing and Cliff David, senior managing directors for Institutional Property Advisors, a division of Marcus & Millichap.
AllianceBernstein (NYSE: AB) did not respond to requests for comment.
Even after selling the 12 apartment communities, Western Wealth still owns another 17, said Fritz-Salazar.
"I understand Western Wealth has a 5 percent interest in all properties they sold," she said.
On the same day the portfolio deal went through, Gebing and David brokered a separate transaction, in which Embrey Partners sold the 319-unit Flats at San Tan in Gilbert to Weidner Apartment Homes for $71.43 million.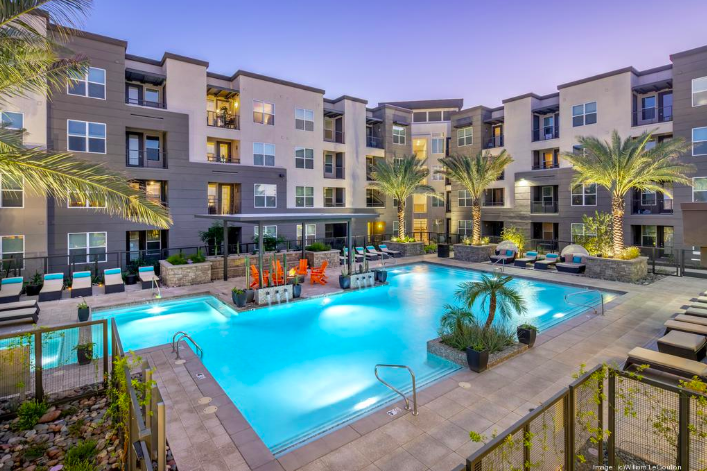 (Image: William Legoullon)
Institutional Property Advisors also brokered the sale of The Flats at SanTan, a 319-unit apartment complex in Gilbert that sold for $71.43 million on the same day the $211 million portfolio closed.



The 12 properties acquired by AllianceBernstein closed on March 28-29. Details on each are below:
Edgewater
Address: 102 S. 4th Ave., Avondale
Units: 196
Price: $21.75M
Last sale: $10.2M in June 2014
Year built: 1985
Sandal Ridge
Address: 645 N. Country Club Drive, Mesa
Units: 196
Price: $19.9M
Last sale: $12.25M in May 2016
Year built: 1979
Terrace Park
Address: 8130 W. Indian School Road, Phoenix
Units: 213
Price: $20.1M
Last sale: $14.25M in March 2017
Year built: 1984
Brookside
Address: 6131 W. Thomas Road, Phoenix
Units: 203
Price: $17.8M
Last sale: $10M in April 2015
Year built: 1984
Marble Creek
Address: 5601 W. McDowell Road, Phoenix
Units: 244
Price: $21.65M
Last sale: $16.75M in August 2017
Year built: 1985
Villa Serena
Address: 4221 W. Dunlap Ave., Phoenix
Units: 137
Price: $12.1M
Last sale: $6.42M in August 2014
Year built: 1982
Urban Trails
Address: 1620 W. Southern Ave., Mesa
Units: 156
Price: $16.4M
Last sale: $13.1M in January 2017
Year built: 1974
Penny Lane
Address: 544 E. Southern Ave., Mesa
Units: 136
Price: $14.25M
Last sale: $10M in May 2016
Year built: 1985
Montego
Address: 949 S. Longmore, Mesa
Units: 154
Price: $18.2M
Last sale: $13.9M in March 2017
Year built: 1979
Lantana Gardens
Address: 4529 W. Ocotillo Road, Glendale
Units: 120
Price: $11.55M
Last sale: $5.1M in February 2015
Year built: 1983
Tierra Santa
Address: 4620 W. McDowell Road, Phoenix
Units: 274
Price: $20.95M
Last sale: $13.4M in May 2017
Year built: 1987
Sunpointe
Address: 7077 W. McDowell Road, Phoenix
Units: 152
Price: $16.35M
Last sale: $10.8M in January 2017
Year built: 1984


Source: Kasten Long Commercial Group's Weekly Apartment Closing Update


Author: Angela Gonzalez, Phoenix Business Journal