Tuesday, August 27, 2019 / by Juan Grimaldo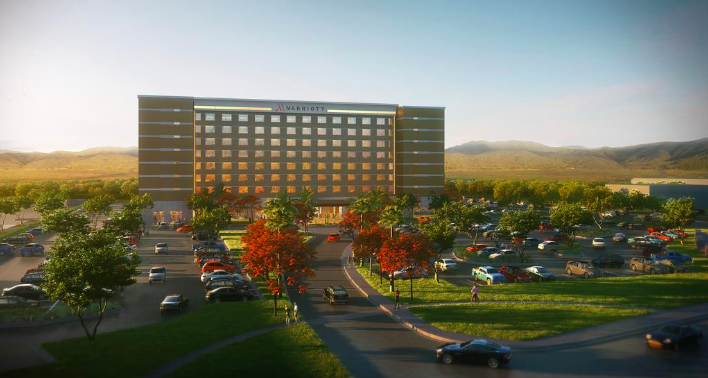 (Image: Provided by Marriott Phoenix Chandler)
Rendering of the upcoming Marriott Phoenix Chandler.
The full-service Marriott hotel being built in Chandler is looking to hire 100 people before it opens in the fall. To do so, the company is getting creative to find the best talent for the property.


Starting Sept. 3, the 264-room Marriott Phoenix Chandler will open a recruitment center across the street from the hotel at 1490 S. Price Road in Chandler. The $60 million hotel is expected to open during fourth quarter 2019.


The hotel is owned and managed by Cincinnati-based Winegardner & Hammons Hotel Group LLC.


The new Marriott will hire for all areas in the hotel, said general manager Brent Menzel. That includes front desk, housekeeping, laundry, bartenders, servers, maintenance engineers and banquets. Of the 100 positions the hotel is looking to fill, Menzel said 24 are manager positions.


With the region's low unemployment and the Valley's plethora of existing hotels and a number of new ones coming online this fall, Menzel said it is a competitive hiring landscape right now, but he believes the incentives from Winegardner will help recruit good employees. One benefit is a quarterly cash bonus for all employees based on how well the hotel performs financially.


Other selling points on the Marriott Phoenix Chandler include the chance to rise through the ranks of three separate companies: Winegardner, Marriott and Pyramid Hotel Group, which operates the Wigwam resort in the West Valley and Hilton Garden Inn Phoenix Airport North.


To get the word out about the hotel's hiring, the Marriott Phoenix Chandler is advertising positions at two of the Southeast Valley's most popular shopping and retail destinations. The Marriott Phoenix Chandler purchased a 15-second commercial that airs before every movie at the Harkins Theatres SanTan Village. It also is advertising at the Chandler Fashion Square Mall, inside the food court.


Donna Chambry, the hotel's human resources director, also set up a five-digit phone number to which job sekkers can text "NEWJOBS," and they will be directed towards the hotel's website.


The 182,000-square-foot property will include multiple food-and-beverage outlets, 26,000 square feet of event space, a swimming pool, grassy areas and a fitness center.


By Brandon Brown – Reporter, Phoenix Business Journal