Tuesday, September 17, 2019 / by Juan Grimaldo
New retail center coming to church-owned property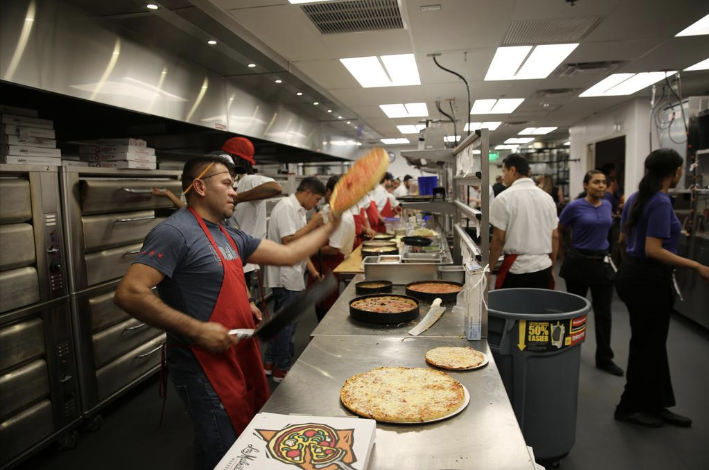 (Image: Phoenix Business Journal)
Workers making pizza in Lou Malnati's first location outside of Chicago in Phoenix.



A new 10,000-square-foot retail center slated to be built in Glendale will feature the next Valley location of popular Chicago-based pizzeria Lou Malnati's.


The small retail center, at 75th Avenue and Rose Garden Lane just north of Loop 101 in Glendale, will have space for a number of tenants. Two committed ones so far are a delivery- and takeout-only location for Lou Malnati's and a Dunkin' drive-thru, Josh Simon, founder and CEO of Scottsdale-based SimonCRE, told the Business Journal.


Simon is purchasing the property from the Dream City Church, formerly known as the Community of Joy and Church of Joy. That transaction is expected to close around Sept. 18.


The center is up the block from a number of other restaurants including Starbucks, Fired Pie and Kneaders Bakery & Cafe.


Glendale City Council approved changes to the parcel's zoning in April so it could be home to this new retail development. Within the next 30 days, Simon said he hopes to choose a general contractor and get construction going soon. The restaurants could start opening in mid-2020, he said.


A Lou Malnati's spokeswoman said the restaurant chain was not ready to confirm any new locations in the Phoenix area yet, but said there are number of neighborhoods around the Valley being considered including Glendale.


Currently, the Chicago pizzeria has sit-down restaurants in Phoenix and Scottsdale and a 2,000-square-foot carryout- and delivery-only location in Phoenix's Arcadia neighborhood.


The Lou Malnati's spokeswoman said the next couple locations in Arizona probably will be strictly takeout and delivery, but the company is still considering opening more full-service restaurants in the region.


Before this development, the land Simon is purchasing had acted as a retention basin. The move by Dream City Church to sell land for commercial development will put some cash in the church's pockets and create a new taxable property for local and state governments.