Friday, March 15, 2019 / by Juan Grimaldo
Developers of a proposed 37,000-acre master-planned community west of the White Tank Mountains hope to jump-start the massive project on two fronts: by luring in homebuilders and a major employer.
The companies responsible for the sprawling development — Phoenix-based JDM Partners LLC and Scottsdale-based El Dorado Holdings Inc. — are in discussions with homebuilders to determine who will be the first to build in the $10 billion Douglas Ranch community that is inside the city limits of Buckeye, about 35 miles west of Phoenix.
Behind the scenes, the project's developers are working to attract a major employer to help make their dream for the West Valley a reality. And the deal on the table to attract an employer, homebuilder or both has the developers offering up to 1,000 free acres and $20 million for infrastructure costs to the first major tenant.
They almost landed a big fish last year. In January 2018, Nikola Motor Co. selected Douglas Ranch as the site for its $1 billion manufacturing plant where it would employ 2,000 people. That project died eight months later when Nikola executives decided instead to build its manufacturing plant in Coolidge, in the southeast part of the Valley, to speed up the process of bringing its tech-laden semi-trucks to market, said Dave Roderique, economic development director for the City of Buckeye.
"Nikola had to move faster than what was originally anticipated," Roderique said. "The infrastructure wasn't there. They needed to get moving."
Though some naysayers wonder if the project will ever come to fruition, the developers have been diligently hammering out deals for years related to securing water, sewer and electricity since acquiring the land in February 2002 — as well as lobbying to pave the way for the future Interstate 11, which would run through their property.
If all goes as planned, homebuilders could start putting shovels in the ground within 18 months.
Sweetening the pot
The developers are betting that their incentive package can push the project forward, said JDM Partner Jerry Colangelo, a long-time Valley resident and landholder best known as the former owner of the Phoenix Suns basketball team and Major League Baseball's Arizona Diamondbacks.
"We feel very confident that in order to jump-start our incredible project over a period of time that by offering an incentive that would involve land and infrastructure it would encourage a major employer or a major homebuilder — or a combination of the two — to be part of the Douglas Ranch/Trillium future," Colangelo said.
With 3,029 acres, Trillium would be the first community to be built, serving as a gateway into Douglas Ranch, which has 33,810 acres.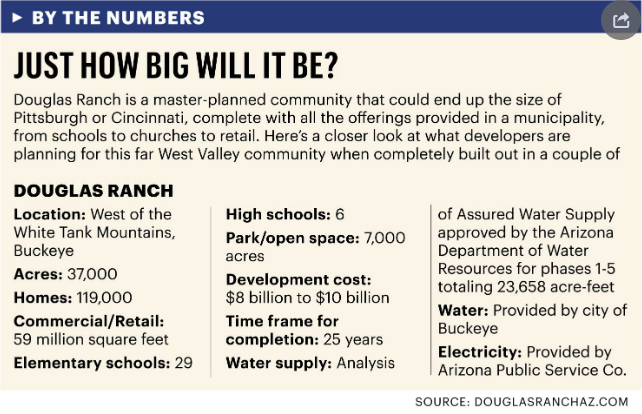 Mike Ingram, chairman of El Dorado Holdings, said he didn't use incentives when he created and built the city of Maricopa in Pinal County, but he has seen others across the country successfully use this type of incentive.
With the hottest job market in 50 years, now is the time to capture employers looking to expand, they say.
City within a city
When finished, Douglas Ranch would have 300,000 residents — essentially a city within a city, Roderique said.
"You're creating something bigger than the city of Tempe within the city itself," he said.
Encompassing 640 square miles, Buckeye currently has about 80,000 residents, up from more than 5,000 in the year 2000. Within three years, the West Valley city is expected to surpass the 100,000 mark, Roderique said.
Buckeye already is seeing growth in the area beyond the White Tanks. Festival Ranch, just northeast of Douglas Ranch, added 348 homes in 2018, and Tartesso West, farther south of the project, added 1,305 homes in 2018.
Roughly 15,000 people are expected to live in Festival Ranch and Tartesso combined by the end of this year.
Large employers could benefit from proximity to California by choosing to eschew the Valley's current boundaries for something a little farther out, said Sintra Hoffman, president and CEO of Westmarc, a West Valley economic development organization.


"When you're talking about a community of 300,000 people, you are talking about the full-service type of environment where it will take health care and education to support residents," Hoffman said. "We saw Nikola clearly having sights on that area.
They really have a good position to attract the same type of advanced manufacturing industry."
New hot spot
Housing analysts say the West Valley is the next hot spot where development will occur, as other parts of metro Phoenix are running out of vacant land.
Jim Belfiore, founder and president of Phoenix-based Belfiore Real Estate Consulting, said the West Valley has seen demand rise since 2015, especially at Sun City Festival and Tartesso master-planned communities to the east of Douglas Ranch.
"Folks looking for homes are finding they can attain a lot more square footage — a larger home — at greater value if they're willing to go farther from the core metro Phoenix area," Belfiore said.
Douglas Ranch would be the biggest thing to hit the West Valley in decades, said RL Brown, publisher of RL Brown Housing Reports.
"The mere size of it suggests that it will be the equivalent to a new city for the west side that will eventually overshadow what's gone on heretofore in the West Valley," Brown said.
This project will catch the attention of a major employer looking to establish a huge presence in metro Phoenix, said Nate Nathan, president and designated broker of Nathan & Associates Inc., a Scottsdale commercial and residential land brokerage.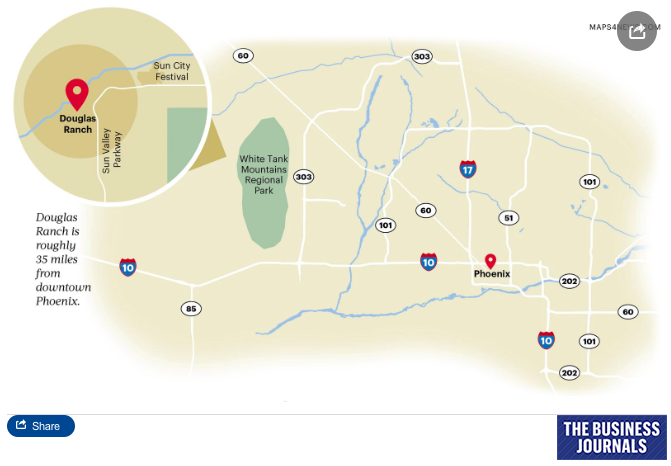 "People are going to pay attention to that much acreage with utilities and infrastructure," he said. "With the land constraints to the northwest, northeast and southeast Maricopa County, the West Valley and Pinal County are going to reap the benefits of available ground that is affordable."
Potential barriers
But at least one land broker said the project is too far from civilization to garner much interest, even in the long term.
"I think it will never happen," said Walter Unger, senior associate broker with Kasten Long Commercial Group in Phoenix.
When El Dorado Holdings built the city of Maricopa, that development had a better chance of success because it is in an area with Casa Grande and Tucson to the south and access to jobs in southern Maricopa County.
With Douglas Ranch, Unger said, "you got nothing to the west 'til LA."
The developers of Douglas Ranch are hopeful the progress of Interstate 11 — designed to provide a north-south transportation corridor — will be instrumental to the project's success.
A route for I-11 has not been defined through Arizona, but it will link Interstate 10 with Las Vegas in a path likely near the Douglas Ranch property.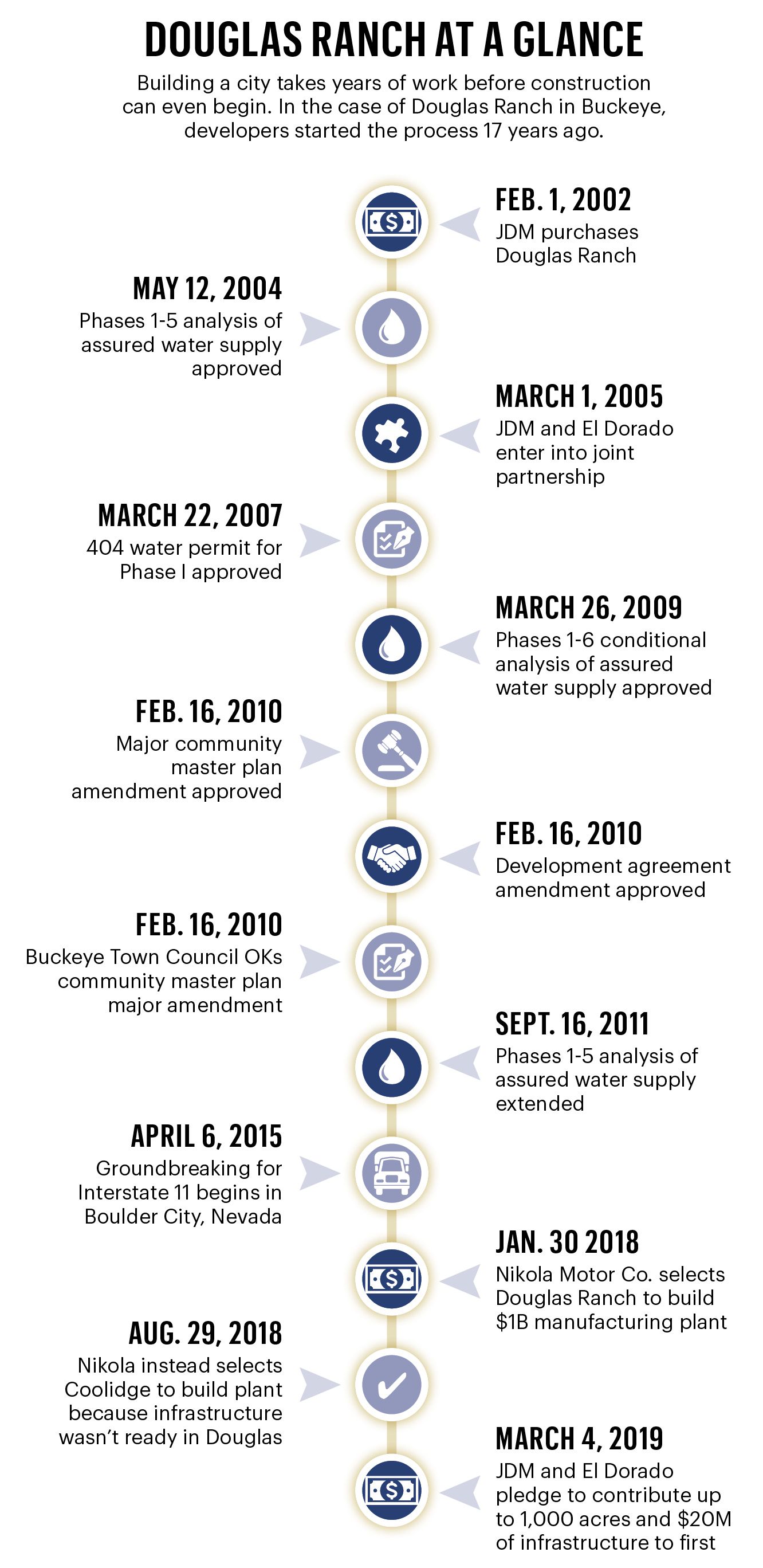 (Phoenix Business Journal)


The I-11 study team is working on the draft environmental impact statement expected to be published this year. Once it's published, the Arizona Department of Transportation and FHWA will hold a comment period and public hearings.
Such a sizable project takes years of planning, said Mark Stapp, executive director of the Masters of Real Estate Development program at Arizona State University's W.P. Carey School of Business.
"You're making decisions today about something that's not going to happen for a long time in an environment that's constantly changing; you have little or no control over," he said. "You make these large acquisitions well in advance of development being there because you have to."
Basic utilities — water, power and sewer — are among some of the biggest challenges for a project of this magnitude, Stapp said. And that costs money.
"It requires a lot of advanced planning and capital expenditure," he said. "The demand is there, and if they create the right 'place,' and they have the ability to get the approvals — they probably do — they'll be able to pull it off."
Author: Angela Gonzalez, Senior Reporter, Phoenix Business Journal (Main Image:
JIM POULIN | PHOENIX BUSINESS JOURNAL)