Wednesday, October 28, 2020 / by Juan Grimaldo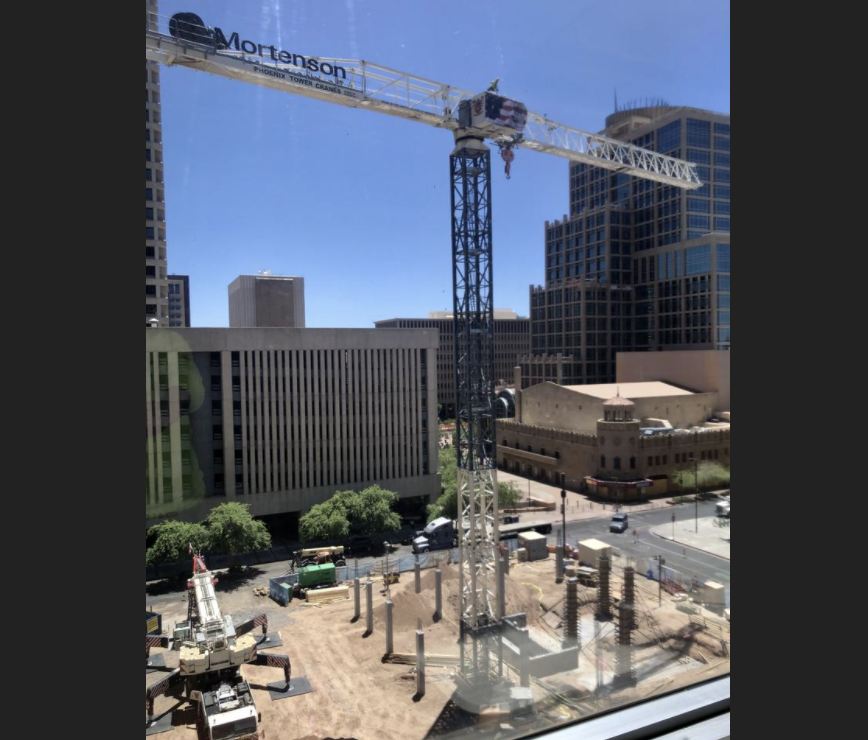 Construction projects that were planned and funded before the Covid-19 pandemic have led to the largest concentration of tower cranes ever in downtown Phoenix.
"Phoenix has seen the benefit of investments by developers who were able to construct for cheaper," Scott Macpherson, executive vice president of Rider Levett Bucknall in Phoenix, said. "Rising rental rates and low construction costs converge in Arizona."
There were 16 tower cranes over Phoenix's Central Business District in the third quarter, an increase from nine in the first quarter, according to the latest Rider Levett Bucknall crane count, which tallies tower cranes in major cities in the United States and Canada. Over the past five years, the most cranes in use over the city was 10, in July 2015 and July 2016. The city with the most crane activity in Q3 was Toronto, which had 124 cranes erected. The U.S. city with the most was Seattle, with 49.
The construction cranes in downtown Phoenix will lead to sky-defining developments.
Christine Mackay, economic development director for the city of Phoenix, said in a Phoenix Business Journal panel discussion on downtown last month that 18 construction cranes had risen in the submarket.
"If you go back and look in the history of Phoenix, never in the history of Phoenix did you have [that many] cranes in the air all at one time — just didn't happen," Mackay said. "And so I think we're on a path to create that dense urban downtown that everybody has often longed for. And it'll come over decades, not just in a very short period of time, but we are definitely on the right path to creating the dense part of downtown Phoenix that we've all been talking about for so long."
In that same panel, Phoenix Mayor Kate Gallego said 32 projects are in various stages of development in downtown Phoenix, including three that will break ground in the fourth quarter of this year.
Public investment, such as the growth and continued expansion of Arizona State University's downtown campus and the light rail, along with an influx of restaurants, breweries and other attractions in Roosevelt Row have fueled demand for both office and apartment space in the area.
Because of this new development, Macpherson said downtown Phoenix is beginning to see a "land challenge" as more of the easily developable parcels have already been built out. Now, "pencil development" with taller, skinnier buildings with a small footprint are becoming more common in downtown.
"Developers know they can't hold on too long," he said. "People are prepared to take on these challenging projects."
Macpherson said the warehouse district in south downtown is also starting to see movement from developers, and he expects the trend to continue.
As the pandemic cuts down on new business opportunities and prices start to soften, more general contractors and subcontractors will likely lower their profit margin to increase their chances of winning new work, Macpherson said. However, while he expects a "pause," in activity, especially awaiting the results and implications of the presidential election, he said Phoenix remains poised for activity.