Tuesday, March 19, 2019 / by Juan Grimaldo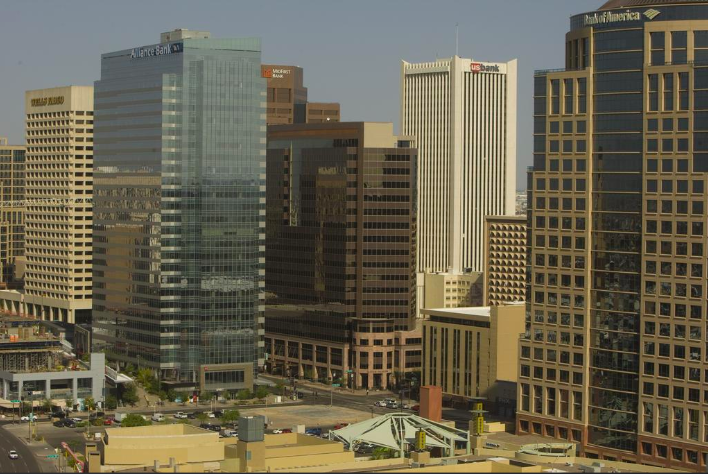 (Image: Jim Poulin, Phoenix Business Journal)


Downtown Phoenix looks much different than it did just a few years ago.
It's a trend that will continue in the coming years as the central city remains a focal point for economic development and population growth.
From Roosevelt Row to Van Buren Street west of First Avenue, a number of projects are either nearing completion or in the pipeline that will spur the further evolution of downtown Phoenix.
In the short term, Block 23 construction wraps up later this year with the urban core's long-awaited first grocery store opening soon thereafter. There is also a new duo of apartment towers in the Roosevelt Row district, one of which looks as though it will open in weeks. And let's not forget the Cambria hotel, where construction in the area has been a bane to drivers on Third Street for a while.
But even after these projects come online, downtown Phoenix won't remain static. Within a few years, one of the more significant changes will come courtesy of ASU.
The university plans to eventually raze the 30-year-old Mercado development at Seventh and Van Buren streets to make way for an expansion of the Biomedical campus just north of it.
This won't happen for a few years, but it will represent another significant alteration to the urban core.
Beyond the future Mercado update, much of the future changes in downtown surrounds population growth. The region has been in the midst of a multifamily boom in recent years. Barring any major economic downturn, that boom will continue in the next few years.
Sure, projects such as the interactive art exhibit and hotel from Santa Fe-based Meow Wolf will bring a different kind of funky to downtown, but much of the proposed developments are apartments or multifamily.
People remain drawn to the idea of urban living. Add in ASU's continued expansion in downtown — it is planning a second residence hall — and demand will remain strong for places to live for young professionals and students.
But will all those new apartments include some kind of workforce or affordable housing units? That remains to be seen, but if history is any indication, I wouldn't hold my breath.
Downtown will keep evolving and changing, but that doesn't mean all issues will go away.

Author: Tim Gallen, Digital Editor, Phoenix Business Journal