Tuesday, September 17, 2019 / by Juan Grimaldo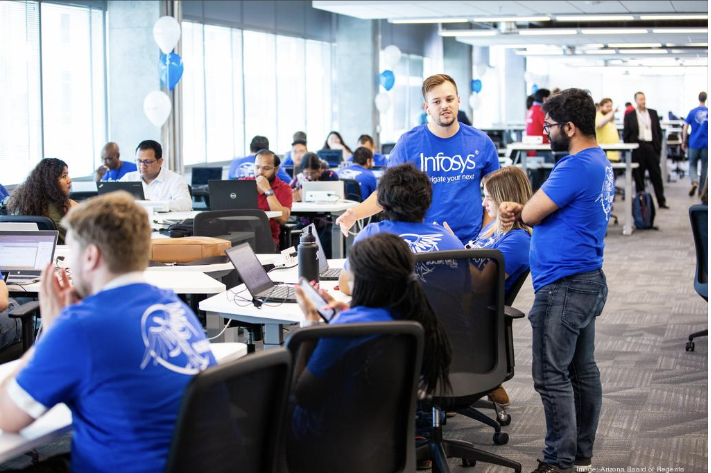 (Image: Deanna Dent/ASU)
A view of the Infosys office following the inauguration of the Infosys Technology and Innovation Center at the new SkySong 5 building in Scottsdale on Sept. 13, 2019.




Infosys Ltd., a digital technology and consulting services firm with global operations, opened a temporary Digital Technology and Innovation Center at SkySong on Friday, with plans to hire more than 1,000 employees by 2023 after it relocates to a permanent space.


Infosys already employs more than 1,000 people in Arizona who work out of clients' offices. The new Scottsdale space, on the third floor of SkySong's fifth building, opened Friday with 80 employees, said Ravi Kumar, president of the Bangalore, India-based company, considered one of the largest tech consultants in the world.


Infosys plans to move into a permanent 60,000-square-foot facility in the Novus Innovation Corridor by 2020. Novus is Arizona State University's innovation zone under construction on the north side of the university's Tempe campus.


"This is one of our six tech and innovation hubs in the U.S.," said Kumar, who lives in New York. "We are looking for the future of digital talent and will extend partnerships with ASU and the Maricopa Community College district."


Infosys plans to hire students with associates' degrees from community colleges, put them through 12 weeks of training with the company, and then help them get degrees with ASU while working, Kumar said.


This will be a national experiment anchored in Arizona, said Infosys CEO Salil Parekh.


The local office has a special focus on autonomous technology, data science and cybersecurity. Infosys helps companies with digital technology, including data, cloud, Internet of things, cybersecurity and mobile apps.


With maker spaces and living labs, the SkySong office is meant to promote collaboration between Infosys workers and customers to work together to help clients deploy new technology, such as virtual reality, augmented reality and robotics.


Parekh said the Phoenix metro was attractive because of the large pool of talent, its established clients in the area, the welcoming government and the location, which is conducive to the company finding a young worker base.


"There's a good life environment here," said Parekh, who lives in India but added he's tempted to move to the state. "We're delighted to be in Phoenix. We strongly believe in building talent pools."


The expansion is part of Infosys' (NYSE: INFY) May 2017 commitment to hire 10,000 U.S. workers. The company announced the same day it had surpassed that goal as part of its ongoing efforts to accelerate the pace of innovation for American enterprises, according to a company statement.


With its U.S. headquarters in Plano, Texas, Infosys reported $12.1 billion in revenue this year. It operates in 46 countries with 225,000 employees. Infosys hired 2,000 new U.S. graduates and 15,000 new grads in India during the past 12 months, Parekh said.
Company executives first made the jobs and expansion announcement a year ago but did not yet have an office location.


Friday's opening and ribbon-cutting included state and education leaders such as Gov. Doug Ducey, U.S. Sen. Martha McSally, ASU President Michael Crow and Arizona Commerce Authority President and CEO Sandra Watson.


"Maricopa County has added 300,000 new jobs since 2015, and with Infosys we can tack on 1,000 more," Ducey said.
Crow called Friday "the best day in the history of our species."


"It's exciting to see an Indian global tech firm in Scottsdale next to a global research university," Crow said. "There's some really smart people here, and we're really excited to be a part of it."


Infosys' stock closed trading Friday at $11.77, which is closer to its 52-week high of $12.08 than its low of $8.85.


By Hayley Ringle – Reporter, Phoenix Business Journal