Thursday, March 14, 2019 / by Juan Grimaldo
At full buildout, the complex will total 3.6 million square feet of industrial space.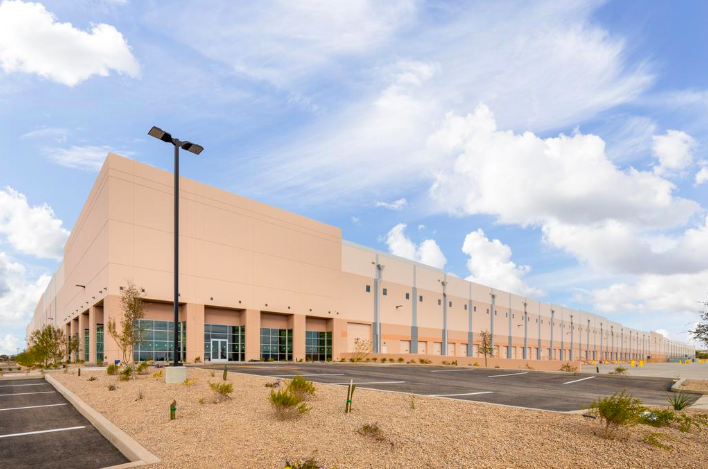 Construction is completed on the first phase of what will eventually be a $300 million, 3.6 million-square-foot industrial and retail park in west Phoenix, resulting in 1.1 million square feet of new speculative industrial space.
The project, called Ten Distribution Center, will include six industrial buildings and 15 retail pads at full buildout. Once completed, it will be the largest freeway-fronting industrial development in the Valley, totaling 215 acres along 83rd Avenue near Loop 101 and Interstate 10.
The Phoenix office of Chicago-based Graycor Construction Co. completed the construction for Irwin G. Pasternack AIA + Associates PC, the Phoenix-based property owner, architect and developer.
"Ten Phase I sets a high benchmark for Phoenix industrial space," Todd Ostransky, Graycor vice president of the Southwest division, said in a statement. "The building size alone is imposing, requiring 182 massive concrete panels to support the 40-foot clear height that is so attractive to modern industrial users."
The first phase began construction in January 2018.
"Metro Phoenix offers high-volume distribution operators some of the most attractive logistics, employment and cost benefits available anywhere in the U.S.," Irwin Pasternack said in a statement. "Major corporations are relocating here to take advantage of these benefits, creating local jobs by the thousands. Ten was designed and delivered to meet this very significant – and sophisticated – demand."
Anthony Lydon, Marc Hertzberg and Riley Gilbert of JLL are the exclusive leasing brokers for the development.
Author: Corina Vanek, Reporter, Phoenix Business Journal (Image: Provided by Graycor Construction Co)