Thursday, April 18, 2019 / by Juan Grimaldo
Specialization keeps family busy in real estate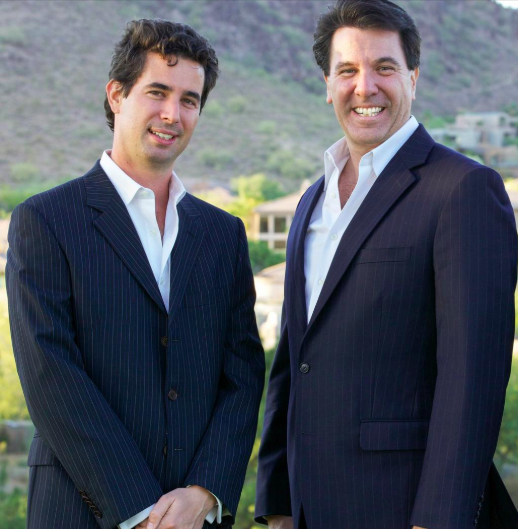 (Image: Courtney Lively)
Keith Mishkin, right, founded Cambridge Properties in 1994 and his brother Cory, left, joined him 20 years ago and now serves as director and COO of the Phoenix real estate firm.
Keith and Cory Mishkin grew up in a real estate family.
Their father, Alan Mishkin, has been an active real estate developer, previously owning the Biltmore Golf Club and the Scottsdale Country Club.
"He was one of those great real estate people who shaped the Valley," said Keith Mishkin, who as a teen would get up at 5:30 a.m. so he could pull weeds, pick up trash and fill water jugs on each of the tees at the Scottsdale Country Club.
"If Cory and I wanted to spend time with our dad, it was on one of his projects," Keith said.
After graduating from Arizona State University's Barrett Honors College in 1989, Keith went to work for another real estate developer so he could learn new ideas and strategies to bring to the family business, starting out as executive assistant to the owner and moving his way up to executive vice president focusing on land analysis.
By 1993, he asked the owner if he would make him a partner in the firm.
"He said, 'Partners don't earn salary — they earn percentages of the deal. How are you going to support yourself?"
When one of the brokers became ill, Keith jumped in to help sell homes. He ended up selling 32 homes in 1993 and another 42 homes in 1994, while also working at his real estate development job.
"I was always the one who raised my hand to say I'll do whatever we needed as a company," Keith said. "There were a tremendous amount of lessons we learned from that downturn that shaped me throughout my entire career."
By November 1994, Keith took $10,000 from his savings account to start his own company, Cambridge Properties. The company was profitable within a year.
At the time, his younger brother Cory was still in high school and helped his older brother choose the name of the company. But he was more interested in ministry, earning a degree in youth ministry from Colorado Christian Universitywith a goal of becoming a youth pastor.
He did some ministry work while working full-time with Keith in 2002 but then moved to New York when his mother died in 2003 to figure out his life. He ended up working for a real estate investment firm until 2005 when Keith called him saying he needed to get back to Phoenix because the market was going crazy.
Cory joined Keith in new home sales. They've been building the company ever since.
With 83 employees and agents, Cambridge Properties generated $4.2 million in annual revenue during 2018 and is on track to increase that number to $5 million by 2020, said Keith.
The company currently represents four luxury homebuilders. Keith said he is looking to grow so that he's representing between eight and 12 subdivisions at any given time.
"We've closed over $1.54 billion worth of new homes since 2001," he said.
Author:
Angela Gonzales
Senior Reporter, Phoenix Business Journal