Thursday, October 24, 2019 / by Juan Grimaldo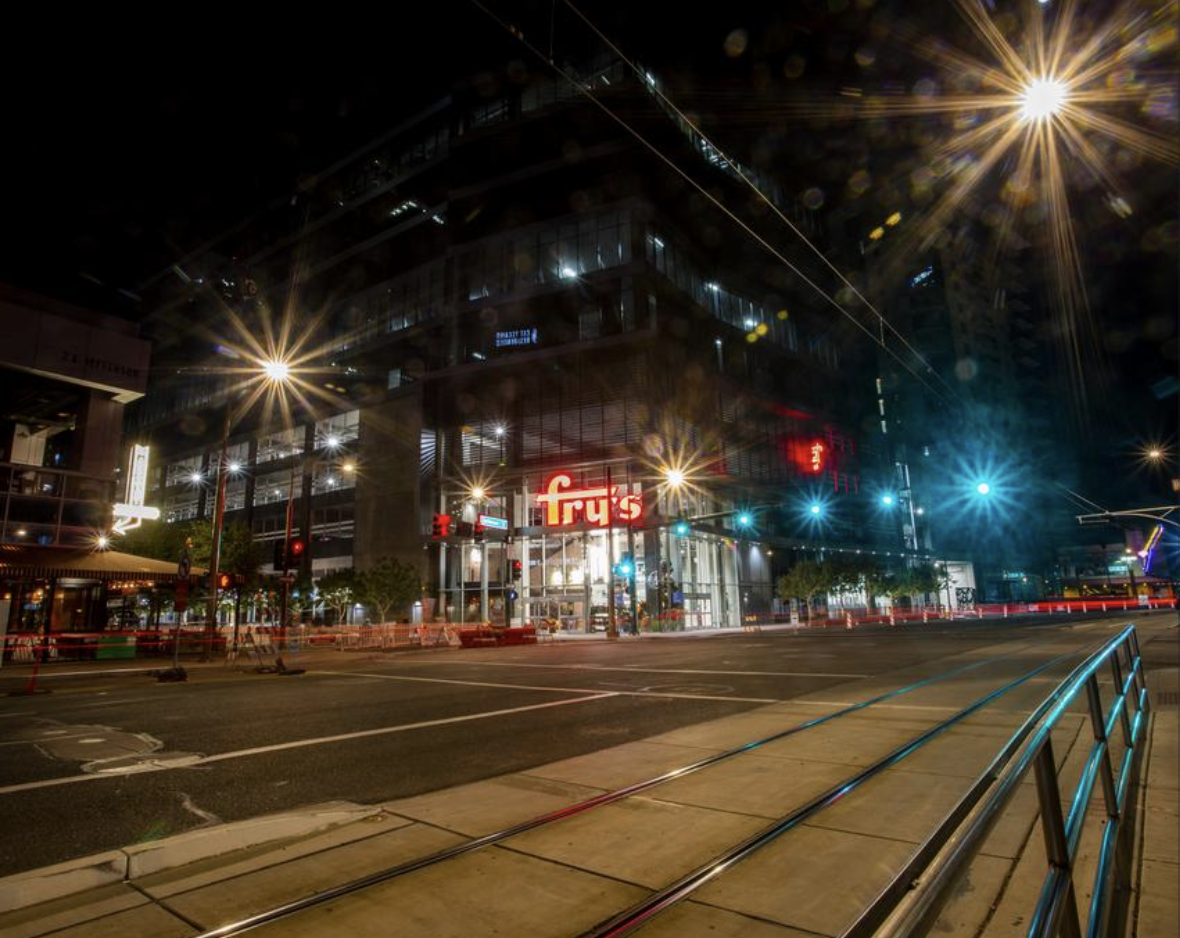 (Image provided by Jim Poulin)
The lunch rush is vital for the survival of a number of restaurants in downtown Phoenix, but there is a new market contender that could cause a huge disruption.
Fry's Food Stores opened the doors of its long-awaited, 67,000-square-foot downtown Phoenix location Wednesday morning, and the grocery store is making it known that it wants to feed downtown's workforce.
"When you think about the tens of thousands of people who work downtown, they now have some really great, nutritious options," Fry's President Monica Garnes told the Business Journal.
Along with regular supermarket offerings, the downtown Fry's, on the corner of First and Jefferson streets in the 230,000-square-foot mixed-use Block 23 development, has a Starbucks, Chompie's deli, sushi station, wine bar and salad bar. Between those options and a variety of grab-and-go foods, Fry's expects lunch sales to be one of the main revenue drivers of this location.
"We are anticipating – especially when we think about that lunch rush – and increased number of customer transactions and just smaller purchases," Garnes said.
Fry's stocked this store with additional self-service checkouts, which Garnes said should help get people checked out quicker.
While weekends tend to slow down around downtown Phoenix, the area's growing resident population is expected to keep this location going as well.
"We've been studying other stores in downtown environments, and what we are finding, surprisingly enough, that Sunday has shown to be a really busy day, as residents get ready for the week" Garnes said. "We are really trying to get our sea legs under us and see how the business here grows, but we are prepared in the first few weeks to take care of the customer on whatever day they decide to shop."
While Garnes said she expects much of the store's traffic will come on foot, especially that lunch traffic, there is a parking garage above the store that will validate for two hours with a purchase.
The new store will only increase the market share of the Kroger Co. (NYSE: KR)-owned brand. Fry's is by far the largest grocer in the Phoenix area with a market share of 27.9% and an annual local revenue of $3.92 billion.
The other office and retail tenants of Block 23, which include Sam Fox's Blancos Tacos and Tequila, WeWork and Ernst and Young, are expected to start opening in late 2019 or 2020.
By Brandon Brown – Reporter, Phoenix Business Journal