Monday, April 22, 2019 / by Juan Grimaldo
Tech giant recently made its second land purchase of 147 acres in the area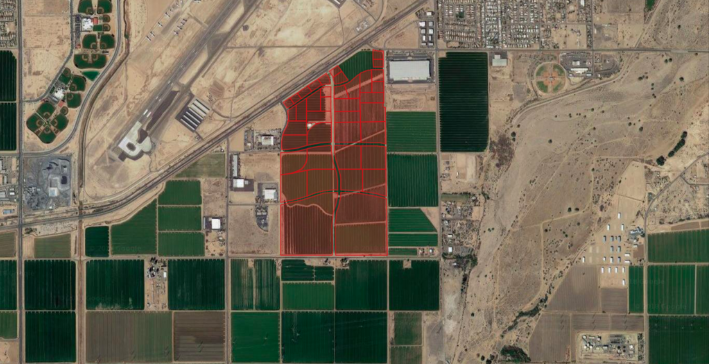 (Image: Provided by Vizzda)
An aerial view shows the land purchased by Microsoft in Goodyear.
Two sites Microsoft Corp. purchased in Goodyear will be developed into data centers.
"As part of our plans to support the growing demand for cloud and internet services in Arizona and across the Western United States, Microsoft recently purchased land at two locations in Goodyear, Arizona where we intend to develop world-class data center facilities," a Microsoft spokesman said in an emailed statement Friday.
Microsoft will pursue U.S. Green Building Council LEED Gold certification on both sites.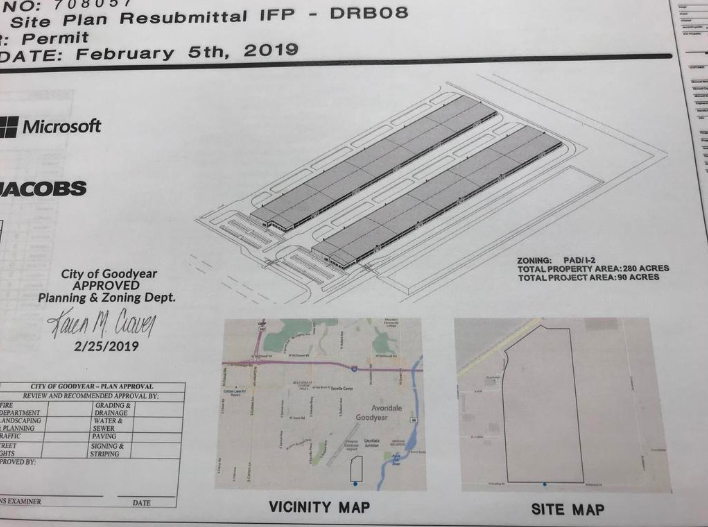 (Image: Provided by the City of Goodyear)
Documents show plans for two data center buildings to be developed on a site Microsoft purchased in Goodyear over the summer.



Initial expedited development plans on a 279-acre site in Goodyear owned by Microsoft will result in two data center buildings totaling 486,000 square feet.
Details of the approved site plan, provided to a Phoenix Business Journal reporter to review, show a proposal to construct three more identical data center buildings adjacent to the two buildings the city already approved Microsoft to build.
Previous documents released and public discussions did not confirm the project was a data center, but several experts with the technology field in the Valley assumed that would be the case.
The site plan, which divides the plot into eight "areas," showed development on only areas 1, 2 and 3. Area 2, the location of the two expedited buildings, called Phx 10 and Phx 11, as well as the three additional data center buildings, are on the southeast corner of the site.
The site plan showed 3,165 square feet and 1,937 square feet of office space in Phx 10 and Phx 11, respectively.
Plans show areas 1,2 and 3 surrounded by a chain link fence. Area 1 is designated for parking for the two data centers and as a construction laydown area. Area 3 consists of a "substation" and APS easement. Site plans did not show any buildings for the remainder of the site, which totals nearly 200 acres.
Microsoft bought the site, located at Maricopa County 85 and Lower Buckeye Road, last summer for $48 million.
On April 16, Microsoft spent $37 million for another 147 acres of land in Goodyear, according to real estate database Vizzda. That site, at Citrus and Indian School roads, is about 9 miles away from the larger parcel. A city spokeswoman said plans for that site likely will be presented to City Council in May.


Author: Corina Vanek, Reporter, Phoenix Business Journal