Tuesday, July 30, 2019 / by Juan Grimaldo
Not all designated opportunity zones will benefit equally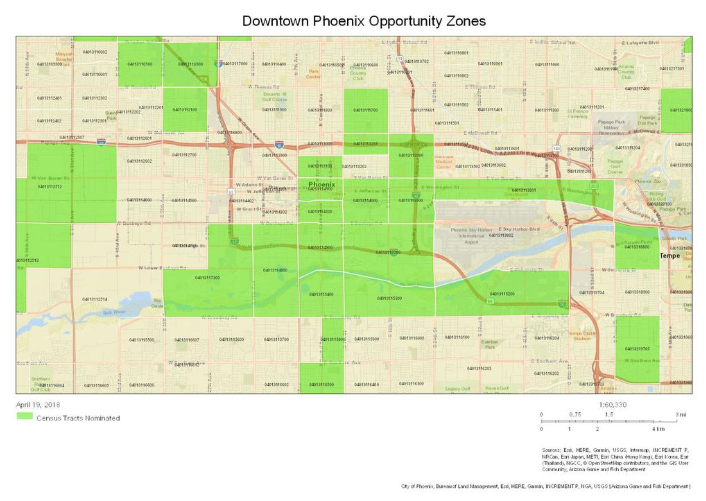 (Image: Arizona Commerce Authority)
Map of Downtown Phoenix's Opportunity Zones
Not all opportunity zones around the region will attract the same level of interest and investor activity, according to a Valley real estate expert.


"The most ripe zones will ideally have transit, dense housing and walkability," said Chad Littell, managing director of Cushman & Wakefield's Phoenix office.


Metro Phoenix's most attractive zones are the areas with the most density, particularly downtown Phoenix, downtown Tempe and Old Town Scottsdale, he said. The zones were created to incentivize creating dense, more walkable areas, and even though it ranks far below cities like New York or San Francisco, downtown Phoenix is considered the most walkable area in the metro.


In Phoenix and nationwide, investment in properties in designated opportunity zones had a moderate start and has continued to grow with time, Littell said.


"The more education the investors have, the more they can enjoy the benefits [of the opportunity zones]," Littell said.


Opportunity zones were created through the Tax Cuts and Jobs Act and allow investors to invest capital gains realized from a sale of property, stock or business in order to defer paying taxes. The money must be invested within 180 days of a sale for it to be eligible for the deferred taxes. The money can be invested two ways: in real estate or in operating companies within designated opportunity zones.


Metro Phoenix has 90 opportunity zones, but it's likely that only around 2% of zones nationally, and in Phoenix, are suited to deliver the highest impact, Littell said.


"Investments need to stand on their own, with or without the opportunity zone," he said. "At this point, it's something that's nice to have, but most people are not and should not base their investment on whether it's in an opportunity zone or not."However, the wisdom that an investment has to be a good one regardless of the opportunity zone designation means some zones likely will be left behind.


Phoenix historically has not been a market where investors hold on to a property for more than three to five years, Littell said. That is well below the required threshold of 10 years for permanent exclusion from taxable income of capital gains from the sale or exchange of an investment purchased in an opportunity zone. However, for investors who are willing to be patient and hold the property longer, investments in the zones can make more sense.


"Phoenix generally is growing," Littell said. "Investors are more willing to to place their money in our market."


Littell said he had a client buy a building near Metrocenter Mall in north Phoenix in an opportunity zone, and was attracted to the area because of the designation, as well as the planned redevelopment of the mall and the future light rail extension proposed to go there.

When evaluating potential opportunity zone investments, areas that are planned to be served by light rail, near a freeway or infill opportunities are likely the most attractive, he said.


By Corina Vanek – Reporter, Phoenix Business Journal