Tuesday, May 14, 2019 / by Juan Grimaldo
Microsoft has made recent headlines with major land buys for data centers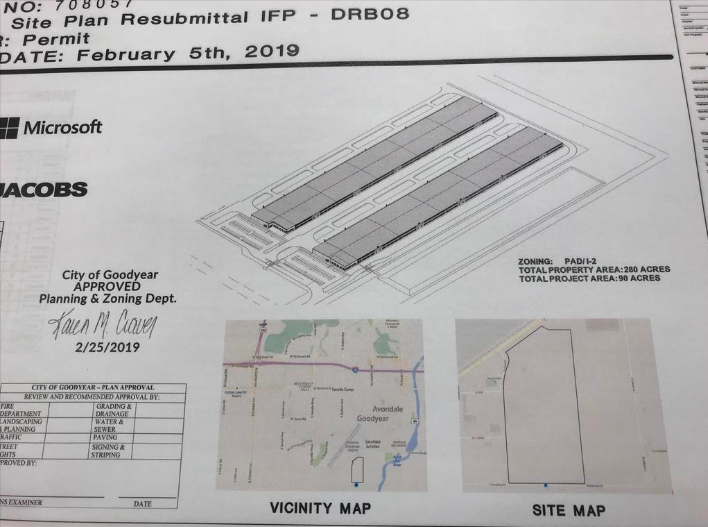 (Image: Provided by the City of Goodyear)
Documents show plans for two data center buildings to be developed on a site Microsoft purchased in Goodyear over the summer.



By the end of 2019, upwards of 1,000 acres of land in the West Valley are expected to be purchased for data center development, according to a commercial real estate executive who focuses on industrial properties.
Despite data center users eating up space that might otherwise be developed into traditional industrial buildings, the increased diversity in tenants and uses can promote the viability of the industrial market in the West Valley as a whole, said Rusty Kennedy, senior vice president at CBRE.
"If you get too narrow in the tenant base, that can be a challenge for cities," he said. "It's an additional use, it adds to the credibility of the region."
Companies such as Microsoft Corp. (Nasdaq: MSFT), which has made three purchases totaling nearly 600 acres of land in the West Valley, might also attract other businesses to the area that want to be neighbors with a globally recognized tenant, Kennedy said.
Microsoft has made a splash by buying so much land in such a short time, Kennedy said.
"A single user taking that much land doesn't happen often," he said, adding velocity of tenants into the market continues to be at an all-time high.
Kennedy said industrial users aren't too worried about prime industrial land being taken up by data centers, but it has made users in the region more aware of securing land positions.
"It has shrunk the amount of available land for new development," he said.
He also noted that West Valley cities were proactive in preparing for technology-oriented users, by creating infrastructure capabilities with higher power usage.
"This is where the universe is headed," Kennedy said. "If you're not playing to this type of use in your municipality, you're going to be passed up."


By Corina Vanek – Reporter, Phoenix Business Journal