Wednesday, May 1, 2019 / by Juan Grimaldo
Latest space will be the company's largest yet in the area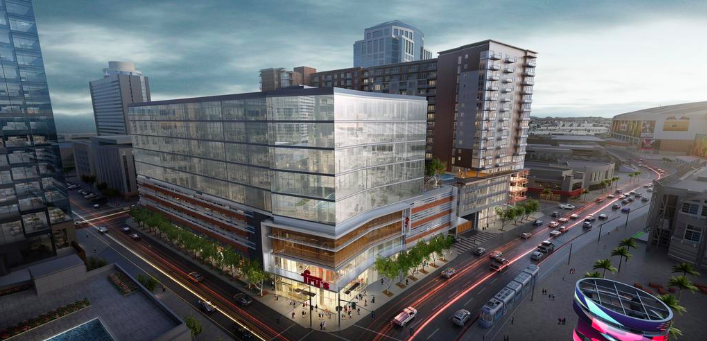 (Image: Provided by Cushman & Wakefield)
An artist's rendering shows the planned Fry's Food Store to be built at Block 23 in Downtown Phoenix.




International coworking giant

WeWork

unveiled its fourth Phoenix-area location Tuesday, with plans to take two floors in the Block 23 development on east Washington Street in downtown Phoenix.
The location will feature mid-century modern décor, floor-to-ceiling glass and futuristic neon design elements.
"We see a lot of growth opportunity and potential for WeWork in Phoenix and it will continue to be a focus of ours as a new market." said Jonathan Chasse, community director for WeWork, in a statement. "We are expanding in downtown Phoenix because it is a vibrant district for business and entertainment, and a magnet for creative industries."
WeWork's space in Block 23 will accommodate approximately 1,600 members, the largest amount for any of the Phoenix-area locations so far. Block 23 is less than a half-mile from 101 N. First Avenue, where WeWork announced in March it would be leasing four floors totaling 1,140 desks.
"WeWork is all about building community, both within our spaces and the neighborhoods we are entering," Chasse said. "By bringing a fourth location online in Phoenix in 2019, we are not only serving up delightful workspaces for companies of all sizes, but planting the seeds of a growing network of innovation hubs across the city that will only continue to grow."
In addition to WeWork, Block 23 will be home to downtown's first grocery store, a 67,000-square-foot Fry's Food Stores location that will face Jefferson Street.
The development will also include a 17-story apartment tower called the Ryan. It will feature 332 units, and pre-leasing will begin this summer with the first move-ins in the fall, said Tom Bakewell, president of Dallas-based StreetLights Residential, which is behind the residential component of Block 23.
Block 23, which is being built by RED Development, also will include 230,000 square feet of office space, including a 20,000-square-foot office for accounting giant Ernst & Young. Restaurateur Sam Fox also will open a location of his popular concept Blanco Tacos & Tequila at the project.
"WeWork joining Block 23 reaffirms that there has never been a better time to be in downtown Phoenix than the present," Mike Ebert, managing partner at RED, said in a statement.