Friday, September 9, 2022 / by Juan Grimaldo

Although workforce challenges in construction are hardly new, some in the industry report success with recruiting from different labor pools and thinking about workforce needs more holistically.
A recent workforce survey conducted by the Associated General Contractors of America and Autodesk Inc.(Nasdaq: ADSK) found 93% of construction firms report having open positions they are trying to fill. Among those firms, 91% are struggling to fill at least some of those open positions, particularly ones requiring a craft workforce that performs the bulk of onsite construction work.AGC and Autodesk conducted the survey in late July and early August, with nearly 1,300 firms responding.
August's jobs report showed some loosening in the national construction labor market, although only marginally. The industry added 16,000 net jobs last month, according to an Associated Builders and Contractors analysis of U.S. Bureau of Labor Statistics data.
On an annual basis, industry employment increased by 311,000 jobs, or 4.2%, last month. The construction unemployment rate rose in August, to 3.9%, but the market remains tight.
Ken Simonson, AGC chief economist, said during a media call discussing the AGC-Autodesk survey the results were nearly identical across different sets of companies — union and open-shop contractors alike, ones of varying revenue sizes and that work in different regions.
"Most job candidates simply are not qualified to work in the industry," Simonson said, adding a candidate's inability to pass a drug test was included in the survey as a challenge in finding a qualified candidate.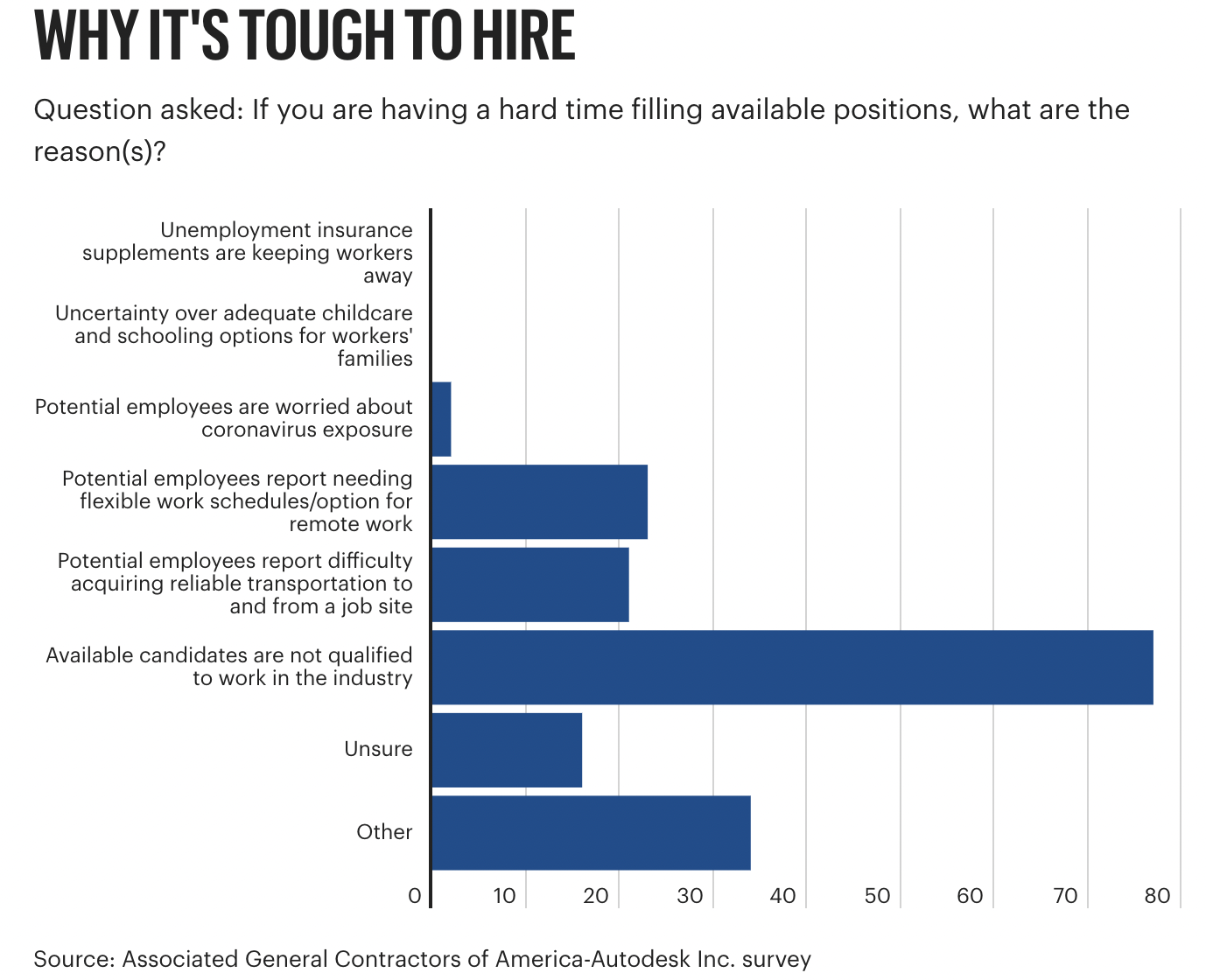 To continue reading click here.

Written by Ashley Fahey – Editor, The National Observer: Real Estate Edition.