Tuesday, April 2, 2019 / by Juan Grimaldo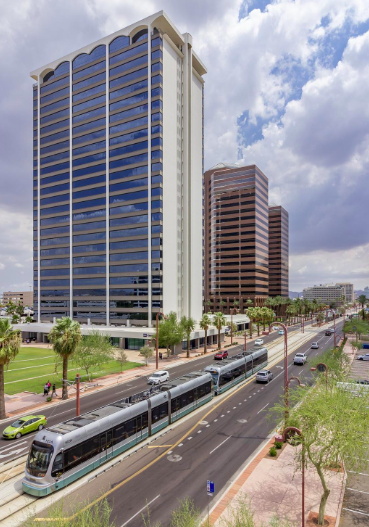 (Image: Provided by Cushman & Wakefield)
A Canadian real estate firm bought the Phoenix Corporate Tower, the company's first investment in the Valley.
Balfour Pacific Capital Inc., a Canadian real estate private equity firm, made its first investment in the Phoenix market with the $42.34 million purchase of Phoenix Corporate Tower. It was a joint purchase with Ryan Cos. US Inc.
The 457,893-square-foot tower is the Phoenix area's ninth-largest office building, according to the Phoenix Business Journal's Book of Lists. The 25-story building is at 3003 N. Central Ave. and was built in 1964.
Chris Toci and Chad Littell of Cushman & Wakefield brokered the deal. The seller was Colony Financial, according to real estate database Vizzda.
The Phoenix office of Ryan Cos. is managing Phoenix Corporate Tower, which was 66 percent occupied at the time of sale. Dave Carder and Scott Boardman of Cushman & Wakefield have handled leasing for the building.
The building is across the street from Park Central Mall, which is finishing the first phase of a major redevelopment.
"The gentrification currently underway in midtown is nothing short of spectacular, and Balfour Pacific has hit the midtown bullseye," Littell said in a statement.

Author: Corina Vanek, Reporter, Phoenix Business Journal