Wednesday, July 10, 2019 / by Juan Grimaldo
Access to talent a major factor in relocation decision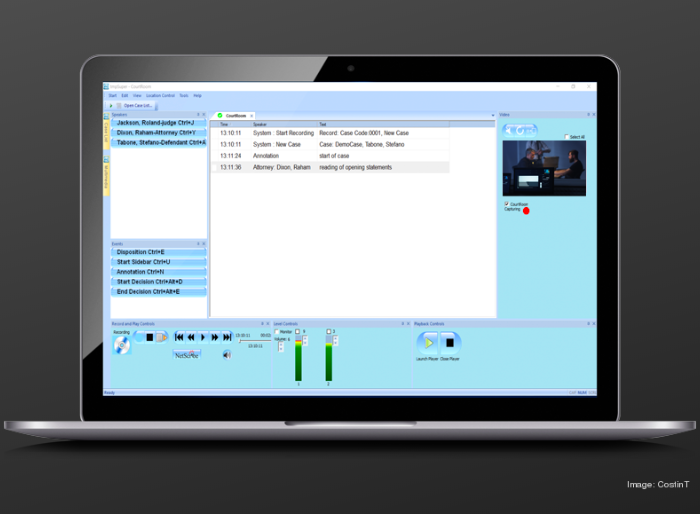 (Image: Provided by VIQ Solutions)
VIQ Solutions Inc. uses technology to cut down the time required to transcribe audio and video recordings into usable text for clients in a variety of industries.



A Canadian technology firm that uses artificial intelligence to transcribe audio and video recordings has moved its headquarters to Phoenix after buying two local companies.
VIQ Solutions Inc. (OTC: VQSLF) hopes the moves will cut down the time required to transcribe recordings into usable text in the law enforcement, legal and insurance industries.
The company moved its headquarters to Phoenix late last year after buying Phoenix-based Net Transcripts in November and Gilbert-based Transcription Express in December.
The company has the capital to buy several more companies that also would be run out of the Phoenix headquarters, said Sebastien Pare, VIQ Solutions' president and CEO.
"We're in the business of collecting evidence and transforming it on the back of technology," Pare said. "VIQ wants to help get even more transcriptions done more securely and faster."


Pare said the company chose to move its HQ to Phoenix to be closer to its customers and for access to talent in cloud computing, cybersecurity and transcription.
"It made sense based on the emerging tech scene in Phoenix," Pare said. "The low cost of living is a big deal. But also, more importantly, we have been able to attract people to move to Phoenix quite easily."
VIQ Solutions acquired Net Transcripts for $6.5 million and took over its Phoenix office for the new VIQ headquarters.
Net Transcripts provides confidential transcription and translation services to more than 400 U.S. law enforcement and criminal justice agencies. The company can take evidence data from any mobile device, either provided by the public or police officers, and transform the audio or video recordings into a text transcript for the agency.
VIQ Solutions purchased Transcription Express for $4.5 million to offer the same services as Net Transcripts but for insurance agencies, Pare said.
The plan is to consolidate the two offices by the end of the year when the right space is found, he added.
VIQ also acquired Seattle-based HomeTech Inc. for $1.2 million in December as a "perfect match" with Transcription Express, Pare said. HomeTech provides transcription support services to major property and casualty insurances companies.
HomeTech also will be run out of the Phoenix office, since Phoenix is the company's main operating base, Pare said.
"We could have picked any place in the world for our headquarters," he said. "Phoenix is our hub to do what we need to do. Now we're scaling the company to the next level."
VIQ Solutions is aiming for $27.5 million in revenue this year. The plan is to scale the company to roughly $50 million during the next couple of years, Pare said.
The company has 1,065 employees in the U.S., with 42 employees and 900 independent contractors in Phoenix. Hiring will continue based on demand, Pare said.
"Now the momentum is picking up," he said. "Our acquisitions are meant to generate growth."
VIQ Solutions operates in 47 states, Pare said. Company executives see a major growth area in cross selling its software to its 1,700-plus U.S. customers. Sixty percent of VIQ's global revenue is in the U.S., while the company also operates in Australia, the United Kingdom and Canada.
"We've spent a lot of money and effort in building up our cybersecurity efforts," Pare said. "We started introducing AI elements to augment the work flow and meet a higher level of cybersecurity."

By Hayley Ringle – Reporter, Phoenix Business Journal