Tuesday, March 12, 2019 / by Juan Grimaldo
Latest office building purchase part of an ongoing effort to grow Valley portfolio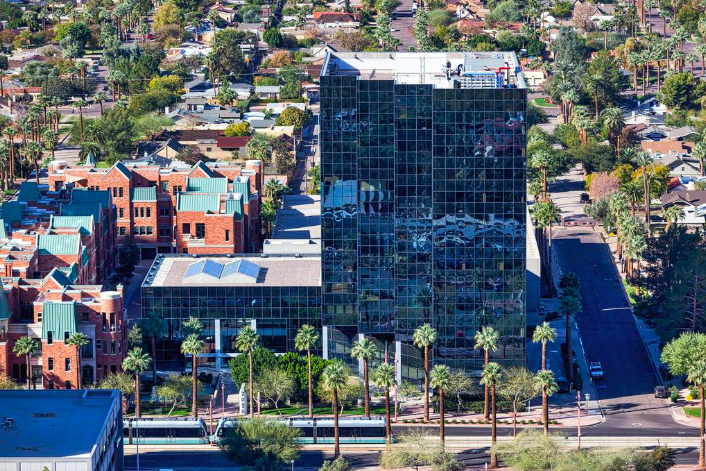 A California investor has acquired bought the 2020 building on Central Avenue in Phoenix.

(Image: Provided by
COLLIERS INTERNATIONAL
)


With its latest $23.9 million purchase of a 12-story office building in midtown Phoenix, Sperry Equities of Irvine, California is continuing its two years of activity in the Phoenix market.
"Phoenix is one of our newer markets," said Burton Young, president of Sperry Equities. "We are taking advantage of, in my opinion, a flight away from California by companies and people."
The purchase of the 2020 on Central building at Central Avenue and McDowell Road is the company's largest purchase so far in the Valley.
Sperry has assets around the country but has continued to build its portfolio in Phoenix. In the last two years, the firm has purchased about 10 properties in the metro, with plans to purchase $100 million worth of real estate in the market over the next 12 months.
Young said he sees the market continuing to improve in Phoenix, and said a strong brokerage community in the city is also beneficial to investors, who want to know leasing at their properties will be handled by attentive people and that they will receive high-quality service when buying and selling.
"I'm a national investor, so there is a lot of competition for my money," he said.
The company has purchased properties all around the Valley, most of which have been retail. However, Young said the company has placed offers on industrial and other buildings in Phoenix as well.
Sperry Equities plans to immediately invest $2 million to renovate some of the common areas and meeting space in the building, said Mindy Korth, executive vice president at Colliers International, who represented the seller, Arizona Central Credit Union, in the sale.
Korth said the building is about 85 percent leased now, and Arizona Central Credit Union remains the largest tenant in the building.
Author: Corina Vanek, Reporter, Phoenix Business Journal