Wednesday, September 4, 2019 / by Juan Grimaldo
Rezoning was recently approved for the project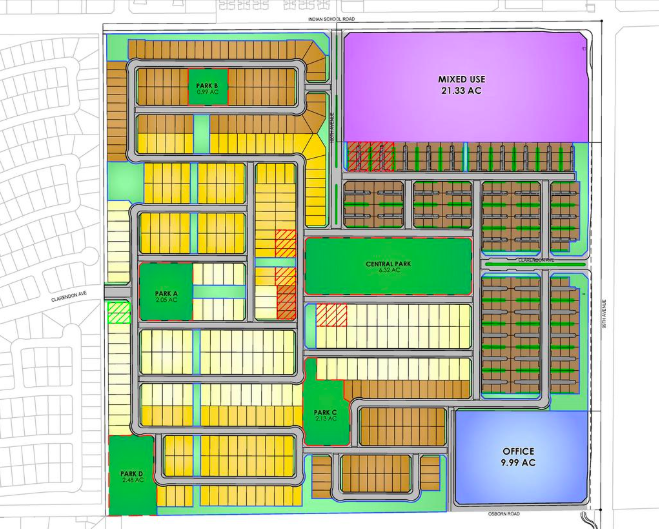 (Image: Provided by William Lyon Homes)
Preliminary site plans for William Lyon Homes' 163-acre master-planned community in Avondale.
William Lyon Homes is a step closer to starting construction on a $40 million master-planned community in the West Valley.
The Newport Beach, California-based homebuilder is in escrow to purchase 163 acres at the southwest corner of Indian School Road and 99th Avenue in Avondale.


"We're hoping to close by the end of the year or early next year," said Troy Wahlberg, vice president of acquisitions and development for William Lyon Homes (NYSE: WLH).


The current property owner is AG/RV-Entorno LLC, an entity tracing to Angelo, Gordon & Co. LP, a New York-based investment firm managing a $33 billion portfolio. The Etorno name dates back to an old site plan before the Great Recession affected the real estate market.


The project originally planned more apartments and townhomes, Wahlberg said.


"It just wasn't a feasible development plan," he said. "As market conditions have shifted, desires have changed. We've come in and redesigned the project to give it a new life."


On Aug. 26, Avondale City Council unanimously approved a rezoning and development case for the property, with Jordan Rose, partner and zoning attorney for Rose Law Group in Scottsdale, representing the homebuilder.


"It's really exciting to see a sophisticated builder like William Lyon Homes figure out how to solve the infrastructure issues and bring this A-plus location to life," Rose said. "It is destined to be a tremendous success."


The project will include 662 homes with four different product lines, ranging from single-family detached homes to more dense villas that will be built with six units in a pod, where the front doors will open into a common courtyard, Wahlberg said.


Homes will range from 1,200 to 3,500 square feet. Also included in the master plan is a 6-acre park that will feature a resort-style community pool, an outdoor movie theater, sand volleyball courts and other amenities. Construction is expected to begin in 2020.


Wahlberg considers the project to be the gateway into Avondale.


"We're right at the corner of Avondale," he said "We look at it as the doorstep into Avondale. It's a really great entrance into that city."


Also part of the overall master plan will be a 21.3-acre mixed-use development, but the homebuilder won't own that parcel, Wahlberg said.


"That is going to retain with the seller, who would bring in a mixed-use developer," he said.



Community in Surprise set to open


Meanwhile, the homebuilder is set to open Phase I of its Rancho Mercado master-planned community in Surprise in October.
That 562-acre community encompasses 1,931 lots, Wahlberg said, with seven product lines ranging between 1,500 and 4,700 square feet. Its initial investment in Rancho Mercado is more than $100 million, he said. Brookfield Property Group is financing that project.


"We are actively looking for new areas — big and small — to continue our growth here in Phoenix to widen our footprint across the Valley," Wahlberg said.


William Lyon's homes typically are priced between the low $200,000s to the upper $400,000s across the Valley, he said. The company employs 87 people in the Phoenix market and has plans to hire various positions, including office personnel, construction and land development positions.


"We started in this market developing a large portion of Ahwatukee in the early '90s," he said. "We continued to grow and stay in this market through the recession. Now we're humming along and continuing our growth."


By Angela Gonzales – Senior Reporter, Phoenix Business Journal