Thursday, March 28, 2019 / by Juan Grimaldo
San Diego, New York companies joined up to purchase property back in 2015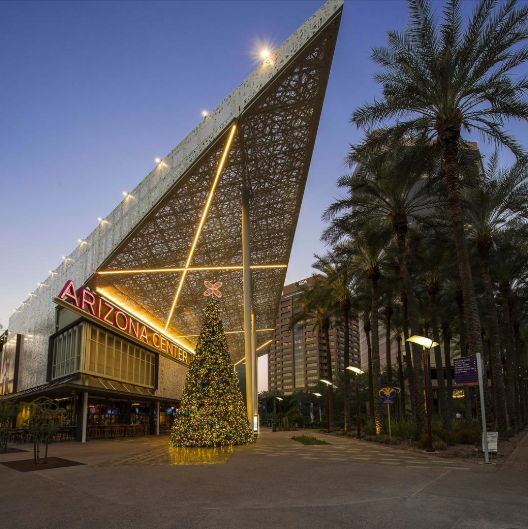 (Image: Dugue Zion)

Some of the new outoor work at the downtown Arizona Center at Third Street and Van Buren.



The Arizona Center development in downtown Phoenix has completed construction on $25 million in renovations that include a rebranding of the multi-use center, which has seen a number of different owners and tenants since opening in 1990.
San Diego-based Parallel Capital Partners said in 2015 it would make improvements to the 16-acre development after it and New York-based Angelo Gordon and Co. purchased the property for $126 million. The purchase included entitlements for development of an additional 3.9 million square feet.
Parallel CEO Matt Root said at the time the companies wanted to capitalize on the downtown Phoenix renaissance. Parallel already owned several buildings in midtown and downtown Phoenix prior to the purchase.
Skanska USA has managed construction of the renovations, which began in 2017 and include new office space, outdoor work stations and new landscaping and lighting, among other changes.
"One of the key changes we made to Arizona Center was opening up the property to surrounding streets and the ASU campus and the biotech center on the east, creating a more integrated downtown experience," Root said Wednesday.
The property will add a boutique hotel and a residential tower that are both scheduled to begin construction later this year.
A 13-story, 199-room AC Hotel by Marriott is scheduled to break ground in April and plans to open in the third quarter of 2020. And Palm Tower, a 31-story residential tower with 350 units, is scheduled to begin construction after Marriott breaks ground.
Arizona Public Service Co. and Snell & Wilmer LLP anchor the Arizona Center along with the recent addition of Arizona State University's Thunderbird School of Global Management, which is slated to move out when a $50 million campus is built. But the center has struggled to attract and retain retail and restaurant tenants over the years.
Parallel Capital Partners wouldn't share details on Arizona Center's current occupancy rate or how much revenue the property generates and whether it's profitable.
The company said in a statement that Arizona Center is focused on bringing in new tenants in 2019 now that renovations are complete. Kwench Juice Café recently moved in, and Freshii restaurant opened on March 25. Bosa Donuts recently began construction and plans to open in early June.
"Enhanced signage opportunities for tenants on Third Street, a more modern look for the center and valet opportunities all create a space that is more inviting to the public and therefore more appealing to retailers," Root said.
The renovations included the installation of a 60-foot LED jumbotron on the corner of Third and Van Buren streets.
Among the other additions to the property are outdoor furnishings and lounge areas, modern shade structures and new landscape and water features. The property is also now offering valet parking and has added bike racks and a stage for entertainment.


Author: Derek Hall, Editorial Intern, Phoenix Business Journal