Wednesday, March 27, 2019 / by Juan Grimaldo
Top two multifamily sales in the Valley in March exceeded $145M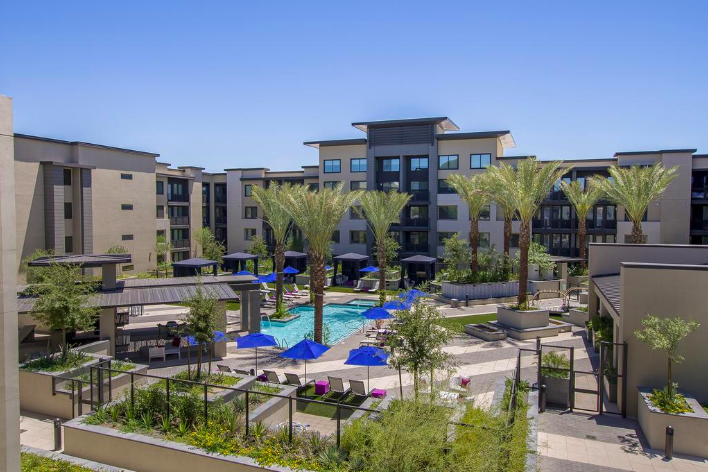 (Image: Cushman & Wakefield)

Broadstone Roosevelt Row sold in March for $84.2 million, with Cushman & Wakefield representing the seller in the deal. The property features a pool and spa with private cabanas, fitness facility with an outdoor yoga lawn, a furnished rooftop deck with fire pits and barbeques, and a two-story clubhouse with chef's kitchen, coffee bar, oversized TV, classic arcades and billiard games.



Investors are showing a strong appetite for apartment communities in metro Phoenix.
The highest price paid during the past month was the $84.2 million sale of the Broadstone Roosevelt, at 330 E. Roosevelt St. in Phoenix.
Kirkland, Washington-based Weidner Apartment Homes, which owns 26 additional properties in metro Phoenix, was the buyer, according to Linda Fritz-Salazar, associate broker and senior partner of Kasten Long Commercial Group.
The seller of the 316-unit property was Scottsdale-based Alliance Residential, which also owns two other properties, Fritz-Salazar said.
Built in 2016, this is the first time that property has changed hands. The deal closed March 12, Fritz-Salazar said..
The other big sale closing March 12 was the 368-unit Courtney Village, 4848 E. Roosevelt St., in Phoenix. Atlanta-based Cortland Partners paid $62.25 million in the transaction to Denver-based Continental Realty Advisors, which owns two other properties here, Fritz-Salazar said. Cortland Partners, which owns two other properties in the Valley, paid $45.5 million for the property in June 2016. It was built in 2002.
Here's a look at some other big recent deals:
• Closing on March 22 was the 225-unit Maravilla Apartments, 13621 W. Glendale Ave., Glendale.
Layton, Utah-based Keller Investment Properties paid $37 million for the property to Renue Desert Gardens II LLC, an entity formed by Scottsdale-based Renue Properties, according to NorthMarq Multifamily, which represented the buyer and seller in the transaction. Built in 2003, the property comprises mainly 2-bedroom units, with a smattering of 3-bedroom units.
• Closing on March 21 was the Premiere at Dana Park, 1439 S. Val Vista Drive, Mesa.
According to Vizzda, entities tracing to Carolyn Kutzke paid $41.95 million for the 198-unit property to Los Angeles-based PCS Development Inc., which built the property in 2018. Paul Jennings, founder of PCS Development, is working on a 216-unit luxury apartment community at Eastmark, a large master-planned community in Mesa.
• Closing on March 21 was the 180-unit Cabana at the Pointe, 1829 E. Morten Ave. in Phoenix.
Paying $22.2 million for that property, built in 1980, was Colorado-based JM Morten LLC, which traces back to Jeff King and Jason McCool, according to Vizzda real estate database. The seller, represented by ABI Multifamily, was an Arizona investment partnership led by Wayne N. Howard, according to Vizzda.
These latest deals come on the heels of several other apartment transactions that closed during the week ending March 1. Those deals totaled $233.2 million spanning 1,169 units, according to Kasten Long research. For a closer look at those deals, click on the image below to see how the deals stacked up: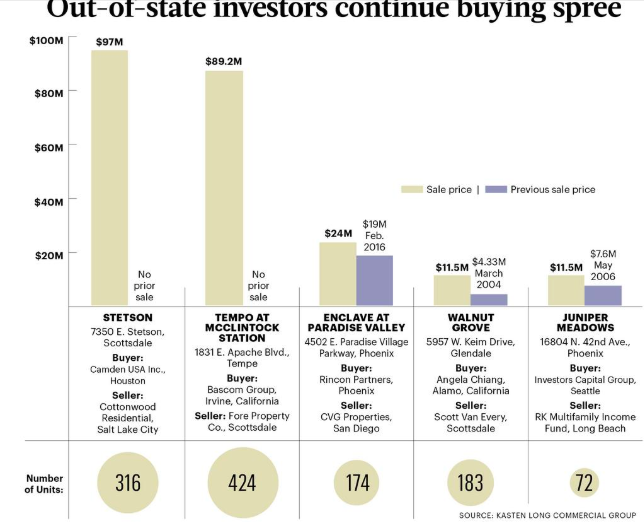 (Image: Joel Chadwick)
Deals of the Week.
Author: Angela Gonzalez, Senior Reporter, Phoenix Business Journal