Tuesday, August 6, 2019 / by Juan Grimaldo
New home sales have picked up in recent months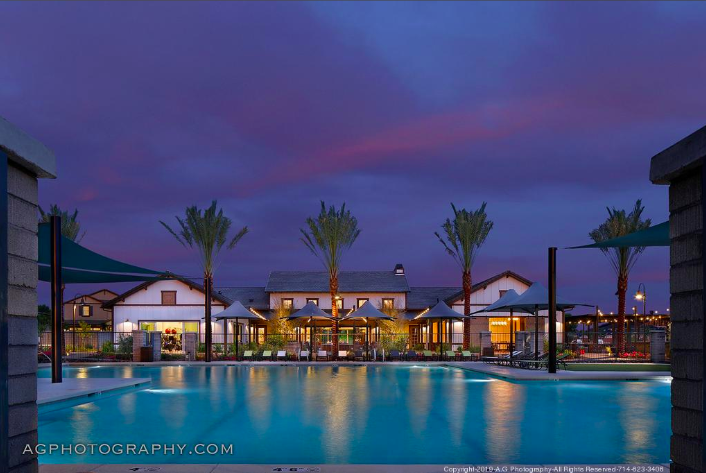 (Image: Anthony Gomez)
Meritage Homes is seeing success at its Marley Park community in Surprise.
Of the 10 top-selling metro Phoenix master-planned communities, eight are in the West Valley, according to a new report.


Issued by Belfiore Real Estate Consulting, the KnowledgeBase Current and Future Market Insights July 2019 report found that D.R. Horton and Meritage Homes Corp. (NYSE: MTH) each maintained three of those top spots between mid-June and mid-July.


Marley Park, Meritage's 200-acre master-planned community in Surprise, is one of those top-selling communities taking three of the 10 top-selling spots. And one of Meritage's top executives knows exactly what's spurring the sales: more affordable prices.


Since sales began on April 12, Meritage has sold 160 homes, said Jamie McAndrew, vice president of sales for Meritage's Phoenix division.


Meritage owns roughly 600 of the 900 lots at Marley Park, with homes ranging from 1,310 to 3,306 square feet and priced from $238,990 to $342,990, he said.


Along with these entry-level homes comes a lifestyle community that includes a community pool, splash pad, community club, basketball courts and workout facility — something most entry-level communities don't include.


It's something Meritage is considering duplicating in other submarkets of the Valley, McAndrew said.

"We can't believe the response," he said.
Jim Belfiore, founder of Phoenix-based Belfiore Real Estate Consulting, said that was a huge risk for Meritage, but it paid off.


And there's more to come from other homebuilders, he said.


"Builders are purchasing more land and lots in the West Valley, where land is more affordable, infrastructure is expanding and home shoppers can find the value they seek in quality, amenitized master-planned communities," Belfiore said.


Marley Park meets that need, as does Verrado, Tartesso, Vistancia and similar existing communities, with the next generation of communities under development following that trend, he said.


"The West Valley is a hotbed of expansion today," Belfiore said. "There are more new community openings in the West Valley than any other area of the metropolitan Phoenix area today."


That's because there are more entry-level homes being built in the West Valley.


"While all segments are doing relatively well today compared to one year ago, the reality is that the value-seeking buyer is the most active buyer and the lowest prices and greatest value can be found in a number of submarkets in the West Valley," Belfiore said.


The lower land prices in the West Valley allow homebuilders to offer a lower price point to buyers, he said.


"Builders can get volume," he said. "There's a lot of vacant land. If you're able to find a site that has water availability and sewer capacity, the West Valley is a great place for a homebuilder to find a large number of potential buyers interested in purchasing homes."


While the West Valley is hot, new home sales are in reading across greater Phoenix.


The report said a total of 2,108 new homes sold over the past 30 days, 14 fewer than a month ago, but 348 more than the same period a year ago.


That translates into 20% more home sales during the past 30 days than a year earlier, according to the Belfiore report. Sales were nearly flat — off just 0.6% — from one month ago, even as the monsoon season took hold in early July.


"The reversal of fortunes for homebuilders is stunning," Belfiore said in his report. "Three months ago, 30-day sales were off 18% compared with the same period one year ago. Up until two months ago, the number of sales over every 30-day period were lower compared with the same period in the previous year for eight consecutive months."


For the last two months, sales levels have reached peaks not hit since 2007.
Here's a closer look at the top-10 selling subdivisions in metro Phoenix between mid-June and mid-July:


Builder: D.R. Horton; Submarket: North Buckeye; Region: West Valley


Builder: Garrett-Walker Homes; Submarket: El Mirage; Region: West Valley


• Homestead at Marley Park-Classics

Builder: Meritage Homes; Submarket: South Surprise; Region: West Valley


Builder: KB Home; Submarket: South Goodyear; Region: West Valley


Builder: D.R. Horton; Submarket: North Buckeye; Region: West Valley


• Homestead at Marley Park-Reserves

Builder: Meritage Homes; Submarket: South Surprise; Region: West Valley


• Cactus at Festival Foothills

Builder: Pulte Homes; Submarket: North Buckeye; Region: West Valley


Builder: Lennar Homes; Submarket: Queen Creek/Hunt Highway; Region: East Valley


Builder: D.R. Horton; Submarket: I-17 & Loop 101; Region: North & Northeast


• Homestead at Marley Park-Estates

Builder: Meritage Homes; Submarket: South Surprise; Region: West Valley


Source: Belfiore Real Estate Consulting


By Angela Gonzales – Senior Reporter, Phoenix Business Journal