Friday, May 3, 2019 / by Juan Grimaldo
Demand remains strong for industrial space in the region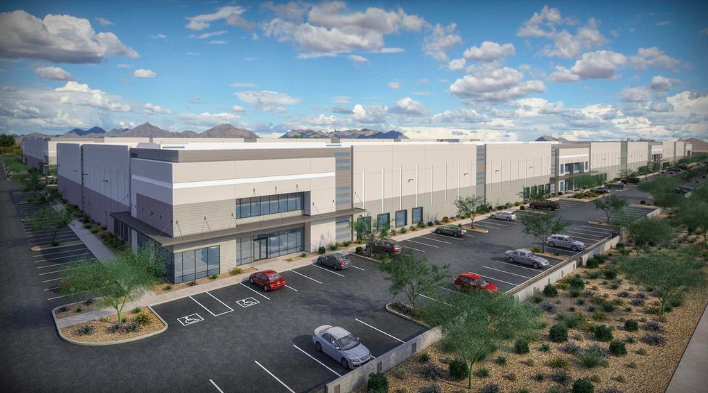 (Image: Provided by JLL)

An artist's rendering shows the planned distribution center, which will be built near 101st Avenue and Roosevelt Street.



Seefried Industrial Properties and Crow Holdings Capital Real Estate bought 40 acres of land in Avondale with plans to build a two-building industrial distribution center.
The project, called the 101 Logistics Park, is expected to cost more than $26 million to develop, company representatives said. The buyer spent $10 million acquiring the land, according to Maricopa County records.
Marc Hertzberg, Anthony Lydon and Riley Gilbert of JLL represented the developers in the land transaction and are the exclusive leasing brokers for 101 Logistics Park.
"The West Valley industrial market is absorbing space at a rapid pace, and that creates an ongoing need for new space solutions," Hertzberg said in a statement. "The 101 Logistics Park checks all of the boxes for this space and the large quantity of tenants looking to expand or relocate, including many mid-bay users."
The 101 Logistics Park will be at the southwest corner of 101st Avenue and Roosevelt Street and will total 652,146 square feet in two buildings, the first 240,844 square feet and the second 411,302 square feet. The project is slated for completion during first-quarter 2020.
"With the rising demand of industrial and e-commerce-related uses as well as the strong population growth in the southwest Valley, 101 Logistics Park has been designed to accommodate the demands of these users and is strategically located to service both the current and future population base," Seefried Industrial Properties Senior Vice President Robert Guerena said in a statement.
According to the industrial insight report from JLL, total industrial vacancy in the Valley was 7.1% at the end of the first quarter. More than 6 million square feet of industrial product is still under construction.


By Corina Vanek – Reporter, Phoenix Business Journal