Tuesday, March 19, 2019 / by Juan Grimaldo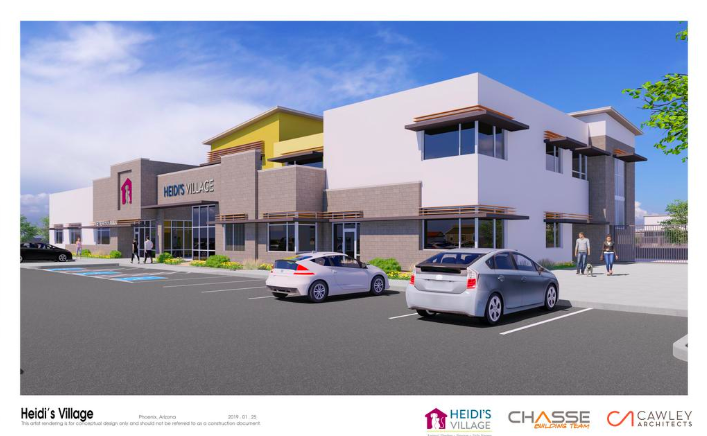 (Provided by Cawley Architects)
A planned animal shelter and veterinarian clinic, to be developed on the site of a former vehicle emissions testing facility, will be the first of its kind in Arizona.
The facility, called Heidi's Village, will consist of nine buildings totaling nearly 40,000 square feet at the northwest corner of 40th and Fillmore streets. The $20 million facility will contain boarding space for up to 250 dogs and 200 cats, though project leaders do not expect to house that many animals all at once.
"Shelters these days aren't what they used to be," said Ellen Clark, executive director of Heidi's Village. "These days they're really beautiful."
Tempe general contractor Chasse Building Team had originally bought the land from a state land auction for its new headquarters, but when they realized the move would be too much of an extra commute for employees who were used to driving to Mesa, they had to find another use for it, said Barry Chasse, owner of Chasse.
Chasse sold the land to Virginia B. Jontes in November of 2017 for $3.1 million, according to real estate database Vizzda.
Jontes had a vision to start an animal shelter and veterinary clinic to honor her rescue dog, Heidi, which died three years ago, Clark said.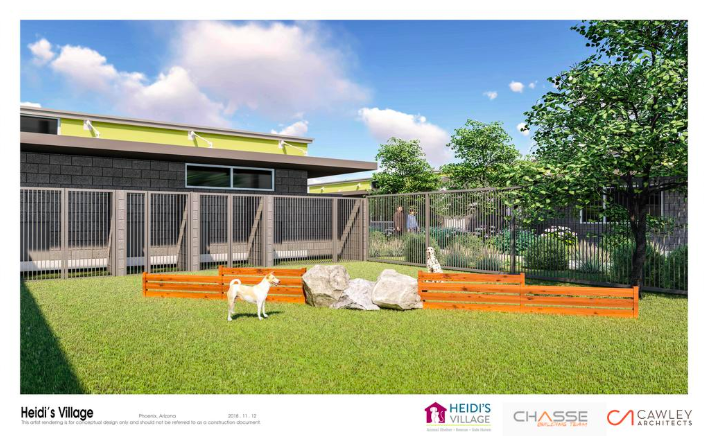 (Provided by Cawley Architects)


David Fulk, architectural project director at Cawley Architects, said the project was designed to create a calm environment for dogs. The kennels are staggered do they are not stressed out by constantly seeing other dogs, unlike some other animal shelters.
Each shelter building also has several outdoor play areas for dogs to exercise. The development will also have a central splash pool, with a deck shaped like a dog bone, for the dogs to play in.
The project will also have a neonatal kitten care facility, for newborn kittens that need constant care. Clark said animals that are often the last to be adopted are cats, pit bulls and chihuahuas. Heidi's Village will also work with animal rescues around the county to accept animals that do not fit in other shelters' existing space.
The facility will also have a veterinary clinic and grooming facility that will service animals housed in the shelter, as well as from other rescues and eventually the public. Animals Heidi's Village houses for other shelters will not be adoptable from Heidi's Village.
"This is a new concept for the whole facility," said Chasse. "It's a unique, custom solution."
Construction on the site is planned to begin by the end of March, and the construction process is expected to take about 14 months.
Author: Corina Vanek, Reporter, Phoenix Business Journal